A final report on the July 30, 2011 Caribbean Airlines crash has confirmed that it was due to pilot error.
"The cause of the accident was the aircraft touching down far beyond the touchdown zone, due to the captain maintaining excess power during the flare and not using the airplane's full deceleration capacity, resulting in the aircraft over running the pavement and fracturing the fuselage," GINA quoted Presidential Advisor Gail Teixeira as telling reporters yesterday.
Teixeira was at the time delivering post cabinet briefs at the Office of the President in the absence of Head of the Presidential Secretariat Dr Roger Luncheon.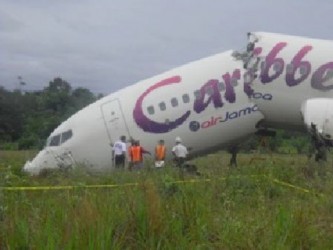 According to GINA, she said the report on the crash landing of Flight 523 was submitted to government and it concluded that it was a pilot error, confirming the earlier contention of the Guyana Civil Aviation Authority (GCAA).
Several organisations participated in the accident's investigation including the US National Transportation and Safety Board, the Caribbean Aviation Safety and Security Oversight (CASSOS), Caribbean Airlines, Trinidad and Tobago's Civil Aviation Authority and the Boeing Aircraft Company, GINA noted. The Boeing 737-800 aircraft had crash landed at the Cheddi Jagan International Airport (CJIA) at 01:32hrs on July 30, 2011. The aircraft stopped short of a ravine and its nose cone segment broke off. All 163 people aboard including six crew members survived. Several persons were injured including a man who later had a limb amputated.
Last year, three Guyanese who were passengers on the plane filed suit against Caribbean Airlines claiming damages for their injuries, medical expenses and loss of earnings. The lawsuits, filed in New York and in Florida, alleged that the airline's actions amounted to negligence and wilful misconduct.
Around the Web