The partially-nude body of an East Bank Berbice man, who was badly beaten during an altercation with another man, was on Thursday evening discovered in an abandoned house at Lancaster Village, Corentyne. One person has since been taken into police custody to assist with investigations.
The dead man has been identified as Ravindranauth Chand, 54, called 'Parbattie Bucket,' formerly of 66 Sisters Village, East Bank Berbice.
Stabroek News was told that between the hours of 7 pm and 8.45 pm, Totaram Jagheshwar, also called "Rasta," allegedly beat Chand with a piece of wood. The wood was later retrieved by investigators.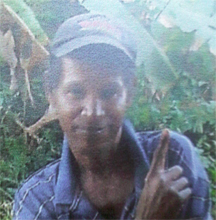 Stabroek News learnt that Chand's face was disfigured and he sustained several bodily injuries. His pants and underwear were down around his knees and his shirt torn open.
A resident of the area said that around 7 pm, he heard unusual noises coming from the house; the sound of persons fighting and bottles breaking.  The resident said that after a while, he saw the accused leave the premises and head in the direction of the Lancaster main access road.
Radica Dyasindoo, 58, a sister of the deceased recalled that between "8.30 -9… meh a get one phone call afta the other to go to the house…," She said she was told 'Rasta beat  yuh buddy…'.
The suspect is well known in the village and residents claim he has mental issues.
The grieving sister who lives a few blocks away from the abandoned house said she decided to go and when she got there, she saw a crowd of people and was told that her brother was in the house. She then sent her son for the police.
When the police arrived, Dyasindoo said, she was escorted into the building where she saw the motionless, badly disfigured body of her brother lying at the bottom of the interior staircase in a pool of blood. She added that her brother's face was covered with blood and piece of wood was seen on his face.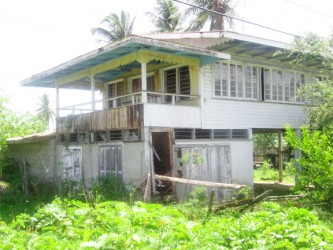 Questioning whether there might have been a third party involved, Dyasindoo said it appeared that her brother might have been thrown from the top of the stairs. She said the family was also seeking answers as to why the man's pants and underwear were down around his knees.
Dyasindoo said she was told that villagers had called the police during the altercation but they did not respond.
Dyasindoo said her brother has been an alcoholic for several years. She said he would "run away" from his Sisters Village home to stay in the Corentyne to consume alcohol.
She said that on Thursday, her brother visited her to have a meal and she last saw him around 6 pm.
Chand leaves to mourn his mother and five siblings. His body is currently at the Ramoo's funeral home awaiting a post-mortem examination expected to be conducted on Monday.
Police investigations are ongoing.
Around the Web