A Williamsburg, Corentyne woman died on Thursday evening after being struck down by a taxi on the village's public road.
Meenawattie Pooranauth, who was hit near the health centre, died while receiving medical attention at the Port Mourant Hospital. The driver of the car, which bore the number plate HC 1727, is in police custody assisting with the investigations. In addition to causing death by dangerous driving, the driver may face charges for drunk driving and speeding, which are believed to have led to the accident.
Pooranauth, 47, called "Tickly," formerly of 123 John's Housing Scheme, Corentyne, was hit around 6:30pm on Thursday.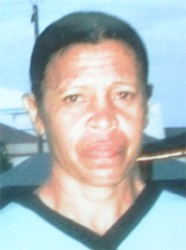 Police spokesman Ivelaw Whittaker said that the woman was attempting to cross the road when she was struck down by the car.
At the scene yesterday, an eyewitness, who asked not to be identified, recalled seeing the car flinging Pooranauth up into air. He added she landed on the "front of the car" and then on to the roadway.
After the impact, he added, public-spirited citizen ran out to the road and stopped the driver, who took Pooranauth to the hospital.  The woman was admitted in to the emergency unit, where she succumbed some half an hour after arriving for treatment.
Stabroek News was told that the driver appeared to be under the influence of alcohol and was driving at a fast rate. Police sources indicated a breathalyser test indicated that the driver had high blood alcohol content.
Meanwhile, preparations for a wake were underway yesterday at Pooranauth's former home. She had moved out a few years ago and was living with a common-law partner Williamsburg.
Her family appeared to still be in shock at the woman's death.
"When we go to the hospital, I went in and see her, she was breathing heavy, heavy," Grieving sister Hemwattie Pooranauth said, while noting that the doctor at the Port Mourant who was tending to her sister could not explain what internal injuries her had sustained. The sister explained that when she saw the woman, she was bleeding a lot from her ears, nose, and mouth, while her head was "banded up." She stated the doctor told the family they were preparing the injured woman to be transferred to the New Amsterdam Public Hospital, but she succumbed before. (David Papannah)
Around the Web