US-based charity Guyana Medical Relief Inc built and presented a structure valued $5M to the Oscar Joseph District Hospital at Charity, Region Two for conducting VIA clinics.
According to a press release from the group, the charitable organisation is based in Los Angeles, California and comprises Guyanese living in the US. Last Friday it handed over the building to the Region Two administration free of cost.
GMR Inc started construction on the 20×25 feet concrete building in late July. The group undertook the project in response to a request from Dr Afrah Khan, who conducts the Visual Inspection with Acetic Acid (VIA) testing for cervical cancer. The hospital has been offering VIA testing for some time but both staff and patients have had to contend with cramped conditions. The new building boasts a waiting area, two examining rooms, a sink and washroom facilities.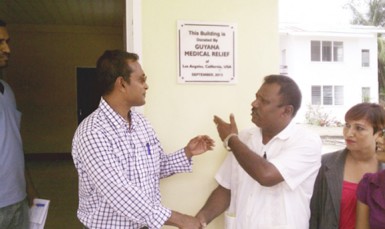 GMR Inc Chief Operations Officer Sharir Chan presented the keys to the building to RDC Chairman Parmanand Persaud who in turn handed it over to Dr Khan at a brief ceremony held on Friday. Chan told the gathering that this is the third VIA Clinic that GMR Inc has built in Guyana. The first one was built in the Mahaicony Hospital Compound and the other in the Bartica Hospital compound last year. "But this one here at Charity, is our best by far in terms of construction since we have learnt from the two previously built," Chan said. He also revealed that the charity will soon provide additional aid to the hospital.
"We have a container of medications and equipment arrived in the country destined for Suddie Hospital. Charity will get from that shipment. So also will the Hospital in Moruca in Region 1," he said.
Dr Khan noted that cervical cancer is a leading cause of death among sexually-active women up to age 50. As a result, she and her staff were pleased to be given better accommodations to provide treatment to women which can save their lives.
"The key point in this clinic is to have a single visit approach; meaning that women  come one day and they get everything done because we don't want to say you are positive, you will have to come back later. We want to treat them right away because sometimes we send them away and they never come back…..we lose them," she explained.
The regional chairman then pledged that the administration will work towards installing electricity and furniture in the clinic before year-end. He also extended gratitude on behalf of the hospital, the RDC and the people of Charity for providing the facility.
According to the press release, Ward Sister in Charge of the Hospital Muriel Murray, Pharmacy Assistant and Suddie Hospital Management Committee member Kumar Dass, Director of the Cuban Doctors Dr. Pedro Luis, VIA Services Nurse Armattie Singh-Ramtahal and Contractor Ramkarran Dass attended the presentation ceremony.
GMR Inc has a track record of 29 years of charitable activities in Guyana and to date it has donated medicine and equipment valued about $50M.  The charity also procures and distributes footwear to underprivileged children and it aims to provide free footwear to every school child, the press release said.
Around the Web