The Guyana Women Miners Organisation (GWMO) and the Ministry of Human Services and Social Security yesterday rescued two women—including a Trinidad national—from the 14 Miles Backdam, in Region Seven, where they were being held against their will by a shop owner.
Late last evening President of the GWMO Simona Broomes, members of her Trafficking in Persons (TIP) unit and employees of the ministry were travelling out of the backdam with the two women, one of whom told this newspaper that she was "going out of my mind and thought a woulda dead in there."
Broomes told Stabroek News that on Wednesday she received a call from one of the victims, who begged her to come and get them and she promised that she would have done so. While elated that she managed to rescue the women—ages 30 and 35—she was disappointed that the female shop owner woman was not arrested because there were no police officers on the trip.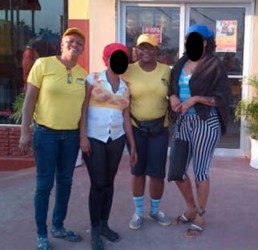 "It was disappointing. We tried to get the police to go with us but this did not happen and so the woman was not arrested…," Broomes said, while adding that what made it worse was the fact that it was the same woman from whose shop she had removed three girls on July 8.
"This woman was never arrested because the police keep saying they don't have a vehicle. They never even put out a bulletin for her and so she just continues doing what she's doing. She told the victims that she has connections and it is obvious that she has connections because she keeps taking these women into the backdam and holding them against their will," a frustrated Broomes vented.
'Brisk business'
One of the women, a Trinidadian mother of two, told Stabroek News that she knew she was going to do sex work and had been told that she would have done "brisk business." She was told that she could easily raise quick cash to return to her country and improve her financial status.
She recounted that she had met a Guyanese woman in Trinidad and Tobago to whom she had expressed the desire to travel to Suriname to make some money. She said the woman put her in touch with the father of her children who was in Guyana. The woman said a ticket was purchased for her and she travelled to Guyana under the impression that it was a return ticket but she later found out differently.
According to the woman, who described her plight as "very sad," when she arrived in Guyana, the man told her that she should not go Suriname but to the interior, where she would make money in a short period. He then introduced her to 14 Miles shop owner. She learnt then that it was this woman who had purchased her ticket. She said she had a friend working at the travel agency who had booked a return ticket for her, but only a one way price was paid.
The woman said she did "some business" in Georgetown and repaid the woman the money for the ticket and another sum that she had borrowed. She later met the other woman and they were both told by the shop owner that she runs a "brisk business."
They travelled to the interior and when they arrived at the woman's shop they were then informed that they would have to pay $3,000 a day for housing and she would provide meals for them. Initially, while the sum for housing appeared high the woman said they believed they could have paid it if they did brisk business. But that was not to be. There was seldom any business and their debt kept climbing. Soon, the one meal a day the woman was providing stopped and any money they made was taken by the shop owner, who said they had to pay their debt.
"Business was dead and we were not making any money. Any money she took and sometimes we had to beg for food or take it on credit when we did not even have any money," the woman said.
She said she became very frustrated and scared because the shop owner indicated that they could not leave without repaying her and this did not appear possible as every day the debt climbed and no money was coming in. They then met a Brazilian man who indicated that there were no women in the backdam area where he was and that they could make money if they went there.
"We begged her to let us go and we would make the money and then pay her but she say we can't leave because nobody ain't breaking she rules and that if we attempt to go she would track we down because she gat connections and nobody would take we out [of the backdam]," the woman said.
"I start like if I going mad because I say like I guh dead in here or something, because this is not me country and I just want leave. We were walking and crying and begging people to help we leave… Some tell we pack we bag and jump out the window in the night and leave but we had no money and she say she gat connections, so who would take we out?" she questioned.
She said two young women in the backdam then gave them a card with Broomes's number and they begged for a call. The woman said she was happy to leave the area, even though the shop owner verbally abused them before they left and told them that they would have to pay her.
"But the woman [Broomes] ask we if we want to leave and we tell she yes and she said pack you bags and come and we do that and we so happy," the woman said even though she is not sure how she would return to T&T as she has no money.
"It is the worse experience I ever had, a nearly go mad in that place," the woman said.
The call
Meanwhile, Broomes told Stabroek News that immediately after receiving the call from the women, she contacted the Human Services Ministry and the police officer who is the TIP liaison officer. She said the officer told her that she was on leave and gave her another officer's number to call but she was unable to get on to this person.
She urged the police to arrest the woman and place her before the courts because she continues to exploit women in the backdam and it seems as if she does this with impunity.
She said she was happy that they could have responded to the cries of the women, while noting that it cost the organisation over $300,000 to travel to the location and return but it was all worth it as the women are now free.
Broomes said that while some might tend to blame the victims, they have a right to choose their profession and no one should be held against their will and be exploited. She said the stories of the women are nothing new; this happens every day and her organisation will continue to fight TIP and rescue women.
Broomes said persons such as the shop owner should be prevented from operating businesses in the interior and this is the direction the authorities must take if they really want to face the issues of trafficking and exploitation in the interior.
The GWMO will be working along with the other agencies—including international agencies—to ensure that the Trinidadian is returned to her country and it is hoped that the police would this time act and arrest the shop owner.
Around the Web