The Women's Progressive Organisa-tion (WPO) recently organised a skills training programme for a group of unemployed women, including single parents, teenagers and victims/survivors of domestic violence, to foster economic empowerment.
A release from the organisation, which is the women's arm of the governing People's Progressive Party (PPP), said that the strategy behind the training programme was to teach the women a skill in order to earn an income. It said that in anticipation of the upcoming Christmas holidays, the skills learnt will allow the women to sell their creations to earn money for themselves and families, which will assist in poverty reduction.
At the end of the training programme, an exhibition was held on September 10, 2013 at the Cheddi Jagan Research Centre (Red House) High Street, Kingston, to showcase the handiwork of the trainees who proudly displayed their products for viewing by guests and visitors.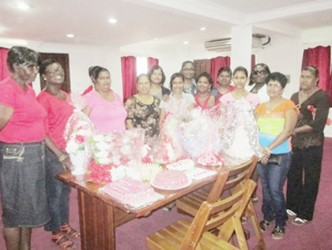 Courses taught were: designed curtains, nail artistry, floral arrangements, handicraft (decorative dolls, clothes pin arrangements, fabric painting) and cake decoration.  The facilitators were Padmini, Nandani and Sharon Singh. Each student were presented with a Certificates of Participation.
The release said that the trainees expressed feelings of achievement and demanded that such training programmes be taken to various parts of the country so that other women who are WPO members can benefit from the skills taught to them.
Several students indicated that they will pursue follow up courses at other institutions such as the Board of Industrial Training and the Guyana Women's Leadership Institute, to enhance their knowledge.
Around the Web