When Ubert Jocintho was found dead at the bottom of a gully near a small pool of water in Mabaruma Settlement, North West District, relatives believed that a murder investigation would have been conducted especially since they saw suspicious marks on his body.
However, they were left disappointed after the cause of death was given as drowning and ranks failed to question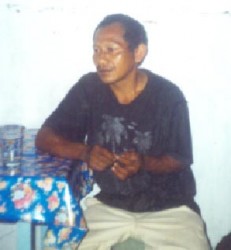 a teen who it is suspected has some information about how the 42-year-old man ended up there.
Relatives told Stabroek News recently, Jocintho who is a farmer at Port Kaituma is not known to venture into that area as persons rarely go there.
A still devastated Shavonne Jocintho told Stabroek News that the family wants the police to look more closely at the case so that their minds can be put at ease.
She said that her uncle's body was found on August 25 between 8 and 9 o'clock.
She recalled that she and Jocintho attended church in the area on the night of August 24 from 7-9 pm. She said that after the service had ended they walked home together.
Jocintho, she said stopped at a shop in front of his house to purchases some cigarettes. This was the last time she saw him.
She said that based on what she was told, the shop had no cigarettes and as such the shop owner sent him to another shop in the area to purchase some. The woman said that the shop owner waited and waited for her uncle to return but he never did and as such he decided to close up.
Shavonne related that the following morning some time between 8 and 9 o'clock, she received news that his lifeless body was found. She said that when she first saw the body it appeared as if he had been beaten. She said that from the position of the body it did not appear as though he might have slipped and rolled down into the gully.
She said too that she noticed a small pool of water a few feet away from her uncle's body. "We see lash marks on his chest and belly and it look like he was dragged," the woman said, adding that looking at Jocintho's jersey she immediately assumed that he had been in a fight. It was pulled up almost to his head, she recalled, and "there were bruises and scratch marks." He was wearing the same clothing – black pants and blue jersey ‒ in which she last saw him.
The woman insisted that when she last saw him and based on what she was told her uncle was not drunk nor was he seen drinking prior to when his body was found.
She said that she later learnt that the shop where he was sent to buy the cigarettes had not been open that night. His body was located a short distance from there.
Shavonne said that the body was subsequently taken to the Mabaruma morgue.
It was after that that relatives began to get suspicious, she said, and although there are houses located nearby people refused to talk.
She said that they subsequently learnt that persons passing the shop that Jocintho was heading to, remembered seeing the door open and immediately informed the owner. However when the shop owner arrived, she said no one was there.
Shavonne said that she suspects that someone was attempting to break into the shop and her uncle arrived at the same time. She went on to say that fingers are being pointed at a teen, who although he is of school age was suddenly sent to Port Kaituma following the discovery of the body.
The woman told Stabroek News that the teen is known for breaking and entering buildings in the community, and she was of the opinion that her uncle probably tried to caution the teen and they ended up in a physical altercation.
She recalled that several months ago she had sent Jocintho on an errand and later got a message that her uncle was being beaten. When she arrived, she found her uncle on the ground being beaten by the teen. She said that her uncle complained to her that the teen had pushed him down and started to beat him.
According to Shavonne, the teen is in the habit of beating her uncle when he is intoxicated.
She said that after she wasn't seeing the teen after her uncle's death, she spoke to the village captain who is a relative of the teen about her concerns and suspicions.  She said that she asked the captain to accompany her to the police in relation to the matter.
Later she said, she heard that the teen's stepfather hired a boat and took him to Port Kaituma to work in the backdam.
In relation to the post mortem examination, the woman told this newspaper that the doctor told them that the marks that are visible on his body could have been caused when he was rolling down into the gully. "It is no high hill. It is a gully with a little bit of grass. Even if he roll, he can't get all them bruises. They look like lash marks," the woman insisted.
She said that while the family believes that he did indeed drown, it was someone else who did it. "The boy coulda bubble he," she said adding that it wasn't a big pool of water and that even if Jocintho had ended up in it, he would have been able to get out.
She said that relatives do not know how to approach this situation. She said that Jocintho lived with and took care of his 85-year-old mother. She said that she is the one who has to be pursuing the matter on behalf of relatives. She said that she went back to the police after the post mortem and ranks promised that they would investigate the matter.
"They went and ask the mother to bring the boy back but up to now he hasn't returned," the woman said, noting that all they want is for the police to investigate the matter thoroughly so as to determine if there was more to Jocintho's death.
Around the Web