Double 'R' Hardware Store at Rosignol, West Bank Berbice went up in flames around 4.20 pm yesterday, resulting in millions of dollars in losses and at least four persons out of a job.
The fire reportedly started in the bottom flat of the building which housed the store and quickly spread to the top flat which was used as storage space.
Residents were afraid that the fire would have spread to the Shariff's Service Station located next to the building and a neighbouring house.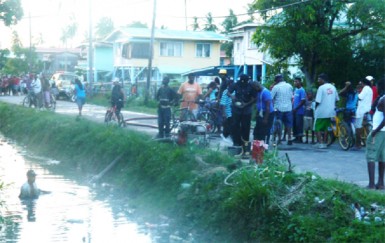 They were grateful that the fire tender from the Blairmont Sugar Estate responded within 20 minutes and managed to contain the blaze. Water was initially accessed from the nearby trench but this was quickly exhausted.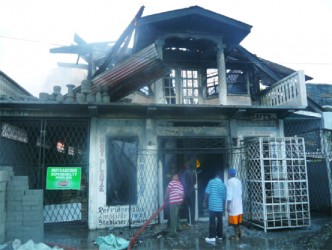 Two other fire tenders arrived from Onverwagt and New Amsterdam but could not access water immediately. The nearby sluice then had to be opened to ensure there was a steady supply.
Residents lamented that the area had fire hydrants but they had never been put into operation and eventually they were "covered up," reportedly during road works.
Owner of the business Ramdial Ramotar of Bath Settlement where he operates his main branch told Stabroek News that as soon as he received the call about the fire he contacted the fire service.
He established the Rosignol branch, which was run by a manager, Jainarine Etwaroo along with three other staff members, five years ago.
Etwaroo told this newspaper that the business was open up to noon yesterday and before they left they ensured that everything was in order.
The business stocked a large quantity of hardware items, including cement, paint and steel rods in addition to fridges, freezers and other household appliances.
Owner of the gas station, Mohamed Shariff told Stabroek News that he received several calls about the fire and was told that his gas station was under threat.
He said he became worried and hurried to the scene but was happy that the firefighters had "everything under control."
A woman said she was passing the store with other persons when she noticed a small fire. She quickly raised an alarm and persons ran out to investigate. Loud explosions, apparently from paint cans and other combustible items were heard as the fire raged.
One of Ramotar's friends who operates a business nearby said he got a call about the fire but the store was tightly secured. He was prepared to use his truck to break open the door to put out the blaze but by then the fire had already started to spread.
When this newspaper arrived at the scene, a large crowd of curious onlookers had gathered and public-spirited persons were rendering assistance. Many were commenting that the government needs to "upgrade the fire service."
Around the Web