Murder accused Tyrone Rowe also known as 'Cobra' yesterday said that he was innocent and knows nothing of the charge levelled against him.
Rowe professed his innocence as he led his defence in an unsworn statement when his trial continued in the High Court.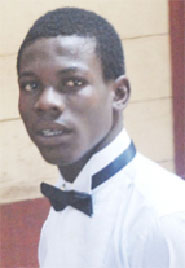 The state's final witness, Chandrika Datt, testified that on August 5, 2010 at approximately 9.45 pm he was at his pharmacy at Victoria Road, Plaisance with an overseas friend, Noel Phillips and Troy Collymore also known as Collie and Nellie, when a customer came at the counter of the pharmacy to make a purchase. He said he tended to the customer, then he called on Collymore to help him close the pharmacy. As he raised his head he saw an individual walking towards him pointing a gun. He stated that the individual told him "don't move", or "I will murder you".
According to Datt, the individual then proceeded to take off his chain and questioned him about two bags that he had in his possession. "I had two bags on the chair, one with my personal computer and the other with 7 laptops. He took the bags and left with them."
Datt said that as he was exiting the pharmacy he saw Troy Collymore and a light-skinned individual standing at the entrance of the pharmacy; Collymore was hit in his face with a firearm by the individual. He then said that this was then followed by multiple gunshots. He said that there were more gunshots outside the pharmacy as Collymore fell to the ground.
Datt told the court that as he was running to the entrance of the pharmacy he heard Phillips call out to him that he was hurt. He said he noticed Collymore's lifeless body and the body of another man in front of the pharmacy.
He recalled that on September 4, 2010 he went to an identification parade at the Brickdam Police Station.
Under cross-examination, Datt said that Rowe was not the man he picked out at the parade and that the person he picked out at the parade resembled the person who had entered the pharmacy.
The prosecution, led by Tishana Lake and defence counsel, Hukumchand made their closing arguments before Justice Navindra Singh. Today, Justice Singh will sum up the evidence that was presented to the court before he hands over the case to the 12-member jury for deliberation.
Pathologist Dr Nehaul Singh also testified that Collymore received gunshot wounds to his head and that he would have died immediately.
Earlier in the trial, an eyewitness had testified that Rowe was one of three men who had robbed him and two other men while they were at the pharmacy, but that he did not see the accused shoot Collymore.
Around the Web