The family of Vanessa Seeram is still awaiting word from police on whether the mother of two, who was discovered in a chair at her De Hoop Mahaica, East Coast Demerara (ECD) residence with a belt wrapped tightly around her neck, took her own life or was killed.
Seeram, 31, woman was known to behave recklessly when she drank alcohol and had reportedly made several attempts to take her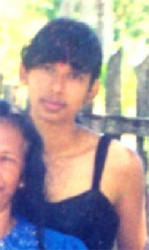 own life in the past. Relatives, including two of her three children, therefore concluded that she had taken her own life.
The police however, had described the circumstances surrounding Seeram's death as suspicious and a suspect, the man who discovered her body on June 8, was taken into custody. He was released, however, and the police have not identified any other suspects.
Relatives say they have been told by the police that the matter will be sent to the office of the Director of Public Prosecutions (DPP) for advice. Stabroek News has been reliably informed however, that no file on this matter was taken to the DPP's office.
The woman's relatives say they have not been contacted by the police since being informed that the DPP's advice would be sought.
The deceased woman's three children, who had gone to live with their aunt subsequent to her death, have now moved back to the house where she was found dead. Their father is now taking care of them.
Around the Web