A Lancaster Village, Coren-tyne man was yesterday charged with the murder of the man whose body was found in an abandoned house last week.
Totaram Jagheshwar also called "Rasta", 40, appeared in the Whim Magistrate's Court before Magistrate Rabindranauth Singh and was not required to plead.
Jagheshwar is accused of murdering Ravindranauth Chand, 54, called 'Parbattie Bucket,' formerly of 66 Sisters Village,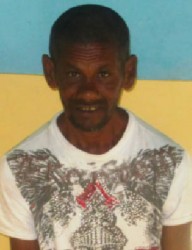 East Bank Berbice on Thursday last.
Police Corporal Prosecutor Althea Solomon made an application for a psychological evaluation of the accused and permission was granted by Magistrate Singh, who ordered that the results of the evaluation must be available by the next hearing which is set for October 14.
Meanwhile, a post-mortem examination (PME) conducted on the deceased Chand stated that he died from injuries sustained from the incident.
According to a relative of Chand, Rishi Dyasindoo, the PME was done in the New Amsterdam Hospital mortuary by Pathologist Dr Vivekanand Brijmohan. Dyasindoo explained that Chand sustained broken bones about his body and a fractured skull.
Chand was badly beaten during an altercation with another man. He was found partially-nude in an abandoned house at Lancaster.
A resident of the area said that around 7 pm, he heard unusual noises coming from the house; the sound of persons fighting and bottles breaking. The resident said that after a while, he saw the accused leave the premises and head in the direction of the Lancaster main access road.
Chand leaves to mourn his mother and five siblings. He is expected to be laid to rest on Thursday.
Around the Web