Veteran broadcaster Ron Robinson was last evening hospitalised at Georgetown Public Hospital following a motorcycle accident.
Up to press time, he was conscious and alert and was in the process of undergoing a CT scan to determine the extent of his injuries.
According to reports, around 9 pm Robinson was seen hanging out with friends in Alberttown. He left shortly after and not too far away, on Light Street, crashed his motorcycle into a parked vehicle.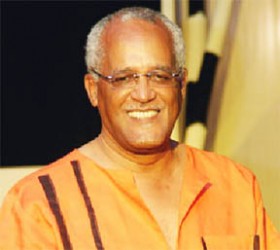 He smashed head on into its windscreen.
He was rushed to the hospital by public-spirited persons and was treated by emergency staff. His son Paul Robinson was present at the hospital last evening along with veterans in the broadcasting fraternity.
A relative told reporters that Robinson was conscious and recognised his family but said he had no recollection of the accident.
Robinson is an award winning actor and director and is otherwise well-known for the annual Link Show and his year-end satire 'Stretched Out Magazine'.
Around the Web