A taxi driver was killed during the wee hours of yesterday morning in a collision at the intersection of Robb and Wellington streets.
Joel Baynes, 34, the son of popular East Coast Demerara pastor Franklin Baynes, was pronounced dead after being rushed to the Georgetown Public Hospital by public-spirited persons.
No one else was injured in the collision, which involved Baynes' vehicle, HB 9018 and another, PNN 1530.
A security guard who was on duty at a business place on Robb Street told Stabroek News that while he did not see the accident, he heard the sound of the collision.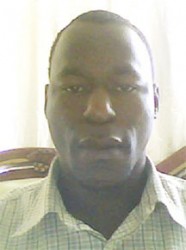 "…I hear this loud 'bam!' …I look and the two cars deh down there. De taxi man de bleeding from he head and he look dead already…the other man like he de tight [drunk] because he smell a de likka," the man said.
Police in a press release stated that the accident occurred around 2:15am, while HB 9018, driven by Baynes, was proceeding east along Robb Street and PNN 1530 was proceeding south along Wellington Street.
The driver of PNN1530, who it is reported failed to stop at the intersection and collided with Baynes' car, is in police custody assisting with investigations.
Pastor Baynes said when he went to the Brickdam Police Station yesterday morning, he saw the man identified as the driver of PNN 1530 being questioned.
The pastor was trying to come to grips with his son's death yesterday. He noted that Joel, the third of his five children, was very close to his mother and she was "devastated" by his death and too distraught to speak.
He said that his son, who was a father of two children, a six-year-old boy and a two-year-old girl, had been looking forward to celebrating his daughter's third birthday come Saturday.
The senior Baynes explained that his son had been a taxi driver since 2002. He had purchased the vehicle he was driving at the time of his death, a Toyota Ipsum, in 2008 and worked since then with the Sheriff Taxi Service.
He described his son as the "village's son," which was evident, he said, by the large number of persons who yesterday turned up at the family's home to offer condolences.
Joel Baynes was always kind, mannerly and was the person everyone turned to whenever they needed assistance, from changing a spare to assisting with purchasing cooking gas and other chores, villagers said.
Around the Web