A 24-year-old Kwakwani man, who was last Wednesday evening doused with acid, in an attack he alleges was set up by his ex-girlfriend, is decrying the lackadaisical response of the police.
According to the man, O'Neil Britton, his attacker had identified his ex as the mastermind, and even though he has made reports to the police, neither has been arrested. "All two of them on the road," he said.
Britton sustained burns to the left side of his face, left hand, shoulders and back in the attack which appeared to be well planned.
Britton told Stabroek News that last Wednesday he was at Bath Settlement, West Coast Berbice doing some work for a friend when his ex-girlfriend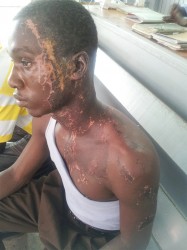 called and asked him to go and fill out a form. "She called like about 5 pm… After I finish filling the form, I was talking with her father downstairs and then me and she leff to go on the road.
While we were walking, she got a phone call and we end up turning back. She made another call and tell me let we continue going."
The man said he saw a girl walking towards them. "… She was the only other person on the street, she walk up behind me and throw this acid on me. I turned and tell my ex-girlfriend…, look this girl throw acid on me."
Britton stated that the girl then started running and he gave chase. "When I catch she and she holler out is a set-up." He said the girl fingered his ex as the person who set it up.
He said he and his ex-girlfriend broke up about a month ago.
Around the Web