The trial of Tyrone Rowe called 'Cobra' came to a dramatic end yesterday when Justice Navindra Singh sentenced him to 78 years imprisonment, causing him to sing after an initial shocked silence.
A 12-member jury re-turned a unanimous verdict of guilty of the 2010 murder of Troy Collymore, after deliberating for three hours following summing up by Justice Singh.
Rowe, who was clad in a white shirt, dark trousers and blue glasses, stood in disbelief as Justice Singh handed down his sentence.
He had been asked whether he had anything to say after the jury delivered the verdict and his response was,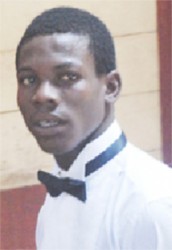 "I would like to get free… I am innocent of this charge, me ain't kill nobody."
In handing down his sentence, Justice Singh began with a standard 60 years, and added 18 years; five years for the use of a firearm, ten years because it was a dangerous felony, and three years for previous charges against Rowe.
As he was being led out of the courtroom, Rowe started singing: "Jah boy! Seventy-eight years I get boy! I feel it to my heart. Seventy-eight years boy." He then called out to his relatives telling them that the sentence had hit him to his heart.
On Monday after the prosecution had closed its case, Rowe had professed his innocence when he led his defence in an unsworn statement, saying that he knew nothing of the charges levelled against him. Thirteen witnesses were called by the state, including two eyewitnesses, one of whom had testified that Rowe was one of three men who had robbed him and others, resulting in the death of Collymore. He had also testified that he had identified Rowe at an identification parade on September 4, 2010 at the Brickdam Police Station.
A second eyewitness, Chandrika Datt under cross-examination had said that Rowe was not the man he picked out at the identification parade he attended and that the person he picked had resembled the person who had entered the pharmacy.
Datt had said that Collymore was struck to the forehead and then shot by a light-skinned individual.
Rowe was on trial for the August 5, 2010 murder of Troy Collymore who was shot after a robbery at a pharmacy in Plaisance and was declared clinically dead two days later at the Georgetown Public Hospital.
Tishana Lake presented the state's case, while Hukumchand appeared for Rowe.
Around the Web