Licensed firearm-holders are given a set of safety rules to follow once they have been issued a licence but the circumstances in which they are allowed to discharge their weapon remain unclear.
Acting Commissioner of Police Leroy Brumell spoke excessively on the subject at a Police/Community Outreach in Meten-Meer-Zorg on Sunday, where many members of the community seemed unsure of what "justifiable" actually meant.
For his part, Brumell stated at one point that licensed firearm holders could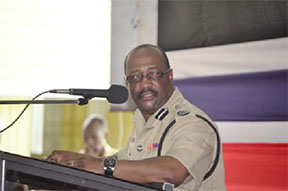 potentially be held liable if they failed to assist persons in distress.
However, notwithstanding his off-the-cuff comment, there is currently no law stating that licensed firearm-holders have a legal responsibility to respond to any such situations.
When Stabroek News spoke to the Deputy Com-missioner for Law Enforce-ment Seelall Persaud, he said that licensed firearm-holders had an obligation to seek out information and clarification.
He said that initially all persons are given training by the police and are told what is and what isn't legal.
He did not explain further or provide examples, although Stabroek News did ask.
Persaud told this newspaper that "that is why you get a firearm for, to use it; it is not a toy, it is not to boost your morale, not to show off with" when asked if it was legal to discharge rounds on your property or on a neighbour's property. He said that the guidelines on the back of each licence clarified how to properly use a firearm in various situations.
Persaud advised this newspaper to "get hold of a firearm licence and on the back is a whole lot of guidelines." He also noted that there was the criminal law to take into consideration.
However, the rules do little to clarify justifiable circumstances.
The first safety rule states: "treat every firearm as if loaded until you have personally proven otherwise." The remainder of the safety rules are directly related to the treatment of the firearm itself, including (vii), which states "ensure that you are properly trained [in] the use of your firearm" and (viii), which states "practice with your firearm as often as possible at safe place," without any elaboration of what is a "safe place".
Stabroek News also asked Minister of Home Affairs Clement Rohee to clarify the justifiable circumstances but he offered no comment.
At Sunday's outreach, community members stated that as licensed firearm holders they would be willing to protect their own property along with neighbouring property by force.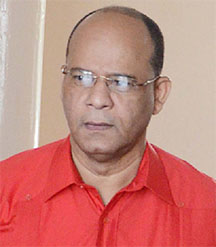 Brumell had previously noted that if bandits were on the loose and roving through communities, terrifying people, licensed firearm holders had the responsibility to act but Persaud attempted to emphasise that justifiable action was of the upmost importance.
This explanation seemed to confuse community members, who repeatedly gave various scenarios and questioned whether they could in fact discharge their weapon.
Around the Web