The police force's Office of Professional Responsibility (OPR) has found that there is "insufficient evidence" to take action against ranks accused of torturing former murder accused Shaka Chase.
Chase was held by police as the suspect in April 27 murder of police corporal Romein Cleto,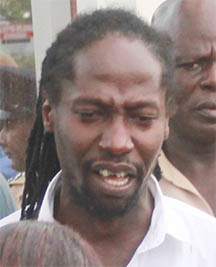 despite statements from persons that he was nowhere close to the Avenue of the Republic and Regent Street spot where gunmen opened fire on a police patrol and killed the policeman.
Police later charged him with the murder amidst allegations that he was tortured but the Director of Public Prosecutions (DPP) subsequently advised that the charge be withdrawn owing to insufficient evidence.
In a letter, dated September 9, 2013, in response to a complaint made by Chase against ranks of    the Criminal Investigations Department, Assistant Commissioner Heeralall Makhanlall said that the matter was investigated and advice sought from the DPP. "It was advised that there is insufficient evidence to take action against the ranks. Hence this matter is considered closed," Makhanlall wrote.
In the letter, he also thanked Chase, a resident of East Ruimveldt, for bringing the matter to its attention.
Chase's lawyer Nigel Hughes, said to be out of the country, could not be contacted for a reaction.
The alleged torture occurred on May 16, while Chase was in police custody.
Chase alleged that he was tortured into confessing while in police custody. Ranks were accused of beating and electro-shocking him. Following the intervention of his attorney, he was taken to the Georgetown Public Hospital for medical attention.
Police came under heavy criticism for charging Chase before seeking the advice of the DPP, especially in the light of allegations by him that he was tortured to sign a confession.
The DPP, in a statement to this newspaper, later said that a perusal of almost 40 statements revealed that the information gathered during the investigations was "insufficient to properly identify the shooter and/or his accomplices."
Chase has since filed a lawsuit against the state, asking for a declaration that he was tortured while in police custody and is seeking in excess of $200,000 for a breach of his constitutional rights and assault.
Around the Web