The suspect held for the murder of policeman Michael Cumberbatch has confessed, according to Crime Chief Seelall Persaud.
Persaud told Stabroek News yesterday that the suspect was also identified in an identification parade which was conducted yesterday morning. A post-mortem examination conducted on the slain cop's remains yesterday confirmed that he died as a result of gunshot injuries. Based on eyewitness accounts, he was shot twice.
Police had said in a statement that at around 8.40 pm on Monday, Cumberbatch was shot and killed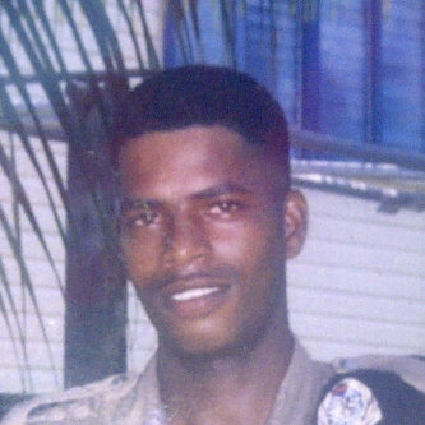 by a man armed with a handgun at his North Sophia Squatting Area home.
Investigations, according to the police, revealed that Cumberbatch was at home when he was confronted by the perpetrator, who was enquiring about someone named "Quacy". An argument ensued, during which he was shot to his chest and the perpetrator then escaped, police added.
Mark Cumberbatch, who lives next door, told Stabroek News that he was in his bed and when he heard the argument at his brother's house.
He recalled hearing his brother's wife saying that no one named "Quacy" and "no Amerindian girl" lived at their address, while the person talking with her replied, "Man, he does ride a colour CG, Quacy.
He living with an Amerindian girl." Mark said that his sister-in-law insisted that persons matching that description did not live at her address.
According to him, the woman went back into her home and the man who was speaking remained in the yard. Mark added that shortly after that the woman called for Cumberbatch. "Michael go lang and see that man still deh in de yard.
Like he is a drunk man," he recounted her saying, adding that his brother went to the door and asked the man who he was searching for and asked him to leave.
Mark said that the man in the yard turned and said, "Soldier man, is who you talking to boy? Ah looking for a man name Quacy…." He said the man got angry that he was being told to leave the yard and shortly after that he heard two loud gunshots.
Mark said that by the time he jumped out of his bed and ran over to his brother's yard, the gunman had already fled.
He said he saw his brother lying on the ground in a pool of blood and he covered him with a sheet.
The wife, he said, was there screaming.
Mark said that the shooter was in the area all day. He said that when Cumberbatch went home, the man suddenly appeared at the house.
He called on the police to question his sister-in-law, while adding that he found it strange that the woman was not hurt during the episode, especially since she would have seen the killer's face.
Around the Web