A 19-year-old woman charg-ed with inflicting injuries causing grievous bodily harm was yesterday placed on $80,000 bail when she appeared before Magistrate Rondell Weaver at the Fort Wellington Court.
It is alleged that on Wednesday September 18, Jenise Nicholson of Yeoville, West Coast Berbice doused O' Neil Britton, 24, with acid. She is scheduled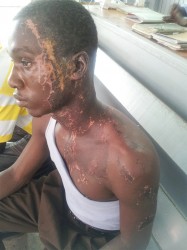 to return to court on October 17. Britton sustained burns to the left side of his face, left hand, shoulders and back in the attack which reportedly appeared to be well planned.
Reports are that the man was at Bath Settlement doing some work for a friend when a woman, said to be a 26-year-old former paramour called and asked him to go and fill out a form.
The duo subsequently left to go out on the road when the woman received a phone call causing them to turn back. He then noticed the defendant approaching and she reportedly doused him with the acid and escaped. He gave chase and caught up with her and she alleged that it was a "set up".
Around the Web