Joseph Stewart, held in a police sting operation earlier this week, was yesterday charged with conning two persons out of $300,000 by pretending he could get them land at Kuru Kuru, Soesdyke-Linden Highway.
It is the police's case that sometime between September 5th and September 6th, Stewart obtained $150,000 each from Trevlyn Mason and Nolan McGusty by pretending that he was in a position to obtain for them a plot of land at Kuru Kuru, Soesdyke-Linden Highway, knowing the same to be false.
The unrepresented Golden Grove, East Cost resident appeared before Magistrate Faith McGusty at the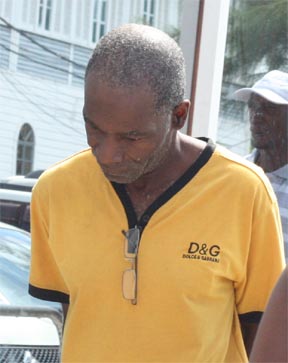 Georgetown Magistrates' Court, where he pleaded not guilty to the charge.
Stewart, who used a number of aliases which include "Yusuf Stewart" and "James Stewart," was wanted by the police over alleged scams involving the sale of land over the last few months.
He was arrested earlier this week after a police carried out a sting operation, in which an undercover detective set up a meeting with him on the pretence that he was interesting in acquiring a plot of land.
Stewart agreed to the meet and was positively identified to police by one of his accusers, who was hidden in the vicinity of the meeting place. Police prosecutor Seon Blackman objected to bail on the grounds that there are additional charges likely to be filed against Stewart.
Blackman also cited the seriousness and the prevalence of the crime. "Once granted bail he may not return to stand trial," he said.
As a result, bail was denied and Stewart is to return to court on October 16 for statements to be filed and a date for the commencement of his trial.
Around the Web