Guyana's first credit reporting bureau, Creditinfo Guyana, was yesterday launched and it is expected to make the financial landscape in Guyana more efficient and pave the way for small and medium enterprises to better access credit.
The idea behind a credit bureau is to serve as an information sharing mechanism so that lenders would be able to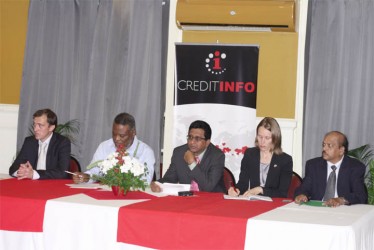 assess how much of a risk it is to lend to a particular person. This assessment will then determine interest rates and other costs connected to the financing.
Speaking at the launching at the Georgetown Club, Dr. Gobind Ganga, Deputy Governor of the Bank of Guyana called the establishment of Creditinfo an important journey which started in August of 2011. Ganga said that the Bank of Guyana issued a call for proposals for credit reporting entities. He said that four such entities submitted proposals and Creditinfo was the company that was approved. It will begin formal operation from December 1 this year.
On July 15, 2013, the Bank of Guyana granted Creditinfo Guyana Inc. a licence to operate in Guyana. He said that credit reporting requires a number of safeguards and the Bank of Guyana ensured that Creditinfo Guyana Inc. had these systems in place.
Speaking on behalf of the International Finance Corporation (IFC) –the agency that helped the Bank of Guyana set up the         country's first credit report-ing system–Shalini Sankaranarayanan said that the credit bureau will play a very important role in the financial infrastructure of an emerging market like Guyana's. She said that Creditinfo meets internationally accepted standards in credit reporting. She said that the focus of the IFC now in Guyana will be on raising awareness and deepening knowledge on the importance of credit reporting.
Canadian High Commis-sioner to Guyana Dr. Nicole Giles called the setting up of a credit reporting bureau in Guyana a significant milestone in Guyana's development and a new chapter in Guyana's credit appraisal process. She said that positive credit reporting could serve as collateral for someone who wants to borrow. She said that a good credit rating could help small and medium enterprises access better rates for financing.
Meanwhile Attorney General Anil Nandlall said that government has for a long time been committed to recognising that the private sector is the engine of growth and has been committed to establishing the environment to make that possible.
Nandlall urged the persons in the room to use their influence to ensure that the Anti-Money Laundering Bill is passed in the National Assembly since its non-passage will render Guyana liable to stringent conditions that would be counterproductive to business and trade. "It will impose great burdens on the commercial sector," he said.
According to the IFC, the new credit reporting agency will enable local financial institutions to share credit information and better manage lending risks to ultimately boost access to finance for individuals and small businesses.
"Consumers and small and medium businesses in emerging markets are considerably less likely to obtain a loan than those in developed markets due to lack of information about their credit history. A credit reporting system, governed by robust legal and regulatory frameworks, helps provide information on borrowers in an effort to ease financing constraints," the IFC said in a release.
It said that IFC studies conducted in 51 countries show the percentage of firms reporting financing constraints declined from 49 percent to 27 percent after credit bureaus opened in their regions.
"With support from Canada's Department of Foreign Affairs, Trade and Development, IFC helped the Bank of Guyana gain the expertise to solicit and evaluate potential credit bureau operators. It also provided technical assistance which allowed the Bank of Guyana to develop the Credit Reporting Act of 2010 and related regulations. This support laid the groundwork for the country to license Creditinfo Guyana," the IFC said.
Credit bureau services will not only benefit financial institutions and credit providers in Guyana, but also benefit the people by allowing lenders to extend more credit," said Governor Lawrence Williams of the Bank of Guyana. Speaking earlier to the IFC, Williams said, "The bureau will enable access to finance for consumers and entrepreneurs, while also encouraging them to be responsible in their financial commitments. In a market such as Guyana, this can have a dramatic impact on economic development."
The IFC said that since 2009, it has helped central banks in the Caribbean develop the legal and regulatory frameworks that underpin credit reporting systems. "The Bahamas, Belize, Haiti, the Organization of Eastern Caribbean States, and Suriname are also developing credit bureau legislation. IFC has been working with central banks in the region to organize a series of conferences aimed at sharing local expertise and transforming the Caribbean's credit culture," the IFC said.
Noting that credit bureaus are important to avoid over indebtedness, Ghada Teima, IFC Access to Finance manager for Latin America and the Caribbean said that the IFC credit reporting system in Guyana should help open doors for small and medium-sized enterprises by increasing access to credit that will in turn enable them to grow, create jobs and benefit the overall economy. "IFC's Caribbean Credit Bureau Programme has been effective in strengthening the financial infrastructure in numerous countries in the region," Teima said.
Around the Web