The Early Childhood and Development (ECD) programme was launched yesterday and according to Minister of Human Services and Social Security Jennifer Webster it is the "ears and eyes" to ensuring children's rights are not violated while at the same time laying the groundwork for them to lead productive lives.
Addressing the launch at De Impeccable Banquet Hall on Brickdam yesterday morning, Webster said that between zero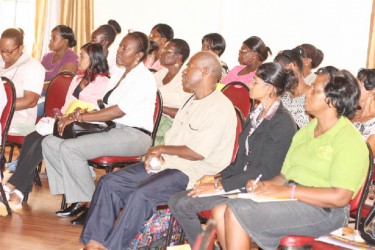 to eight years are the most critical in any child's life and "essential to their cognitive, social and emotional well-being".
She explained that the new Child Care & Development Services Act 2011 has given the Child Care & Protection Agency (CC&PA) the mandate for developing policy, regulation and standards in ECD services. ECD, she said, is a comprehensive approach to policies and programmes for children around eight and under, their parents and caregivers.
The CC&PA's mandate, Webster said, is to focus on the education and development aspect of the early childhood experience in settings such as pre-school and day care facilities. One of the major tasks is the registering and licensing of these facilities, she said, while adding that this is to ensure that these services meet the required early childhood experiences for children.
She said the mandate of the CC&PA is not to address the aspects of ECD that are traditionally handled by the health sector (pre-natal care, post-natal care, immunisation, nutrition and developmental screening) but rather it involves intensive collaboration by the ministries of Labour, Human Services & Social Security, Education and Health. Consequently, there must be maintenance of a coordinating body involving ECD officers from these ministries and other key sectors with the CCPA taking the lead role based on the responsibilities spelt out in the Act, she told the gathering.
"There is much already done in policy formulation for ECD in Guyana through the establishment of a committee by UNICEF comprising officers from the education sector and the City Council daycare services," Webster said adding that the work done by this committee was supported by the Caricom Secretariat which sought to align standardised ECD services throughout the Caribbean Community.
The minister said that it is known that not all women can stay at home and raise their children as they are forced to balance this with work demands and contributing to their family's economic development. As a result of that, she said parents entrust the care of their children to persons who are sometimes unknown. "This ECD programme aims to be your ears and eyes on the ground," she said. "It aims to further strengthen the protection and care mechanisms in place to safeguard our children especially in daycare facilities. It aims to ensure that their rights are not violated. Most importantly, it aims to ensure that their childhood years are safe and enjoyable. We want to ensure that while in daycare, your children's development is encouraged in a manner that is apt for their age. Hence, the Child Care and Protection Agency has developed core programmes for children. At the level of the Government of Guyana work is ongoing to develop minimum operation standards for all residential care facilities, as mandated under the new Childcare and Development Services Act. All pre-school and day/night care facilities will be required to fully comply."
She also said the aim behind the programme is to protect the rights of each child to develop his or her full cognitive, emotional, social and physical potential. Every dollar invested in high-quality early care and education can save many more of our children, and enhance their ability and performance rates in school, increase graduation rates, reduce teenage pregnancy, reduce violent crime and school drop-outs in our society, and create a more stable family life and productive adults, the minister said.
She added that in developing countries like Guyana, heavy investment in human resources was needed. Since government's position is that every single Guyanese citizen must have access to the same opportunities, irrespective of where they live, she said, it is of utmost importance that greater emphasis be placed on the delivery of improved social services to children.
Webster also said that it is for this and other reasons that emphasis is being placed on the implementation of the ECD programme with the registration and licensing of all daycare facilities for children. "We hope to streamline the operations of the more than 200 such facilities throughout our country," she said.
Meanwhile, UNICEF Representative for Guyana and Suriname Marianne Flach noted that her organisation would support quality ECD programming in Guyana and helping young children reach their full potential by increasing access to quality early childhood care and education.
"Giving children the best start in life and ensuring that they have the opportunity to start school on time, and have the developmental skills to successfully complete school, are two of the priorities of any duty bearer who strives to fulfil children's right to a good quality education," she said.
She noted that the majority of the world's youngest children suffer one or more forms of severe deprivation and risk such as poverty, disease and exposure to violence. She noted that global data indicates that in 2012, around 6.6 million children died before reaching their fifth birthday and that over 200 million children under five years of age are not achieving their developmental potential, due to poverty, stunting and malnutrition.
"Early childhood development services and programmes for young children and their families are considered the most promising approach to alleviating poverty and achieving social and economic equity," she said, while noting that many children who could benefit the most from early childhood development programmes cannot access them, owing to household risks or structural barriers to access.
"Finding ways to address these inequities must remain a priority for all of us to 2015 and beyond," Flach said adding that an integrated ECD process is essential to success in the development of young children. She said that the linkages between health, education and social services are inescapable, and coordination in this area is pivotal to creating a supportive environment which can accelerate and sustain progress. This is particularly relevant for children with disabilities, who often have limited opportunities, she noted.
Head of the CCPA Ann Greene in a slide show presentation noted that the M&CC will be responsible for physical inspection and ensuring all operational standards are in order. She said the agency's licence and operations officers will be in charge of the licensing process.
There would also be a technical working group in place to maintain the operational rule of the programe.
UNICEF Programme Officer Michele Rodrigues during her presentation said that without this licensing and registration process it would be impossible to capture all those persons who are offering services to children.
She lauded the Industrial Site Daycare Centre, which she said has met all the targets set. She said that according to the Caricom standards, Guyana is falling down particularly in terms of the physical structure, floor space and staffing. She said there were suggestions that the head of a daycare should be the holder of a Master's Degree. In the case of the Industrial Site centre, she said, the head does have such a qualification and others who are very well qualified include staff who are doing the new ECD programme. In relation to the other daycare centres, she said many of them have met the minimum standards.
She said that there is a training programme, which is accredited by the University of Guyana and University of the West Indies, and persons from Berbice have copped the top spots. The ECD programme is being done at the University of Guyana, she noted, while adding that part of the programme entails a practical aspect. Rodrigues said it is accepted across the Caribbean and papers are second marked by officials of Trinidad and Tobago.
Around the Web