A murder charge was yesterday laid against the suspect in the murder of policeman Michael Cumberbatch, who was gunned down at his North Sophia home on Monday evening.
Vickram Persaud, also known as 'Lil John,' a 28-year-old farmer of Doctor Dam, La Grange, West Bank Demerara, was not required to plead to the capital charge when he was arraigned before Magistrate Faith McGusty at the Georgetown Magistrates' Court.
During the arraignment, Persaud accused police officers of torturing him in an attempt to force a confession out of him.
He told the court that he was beaten and shocked repeatedly.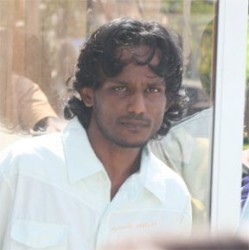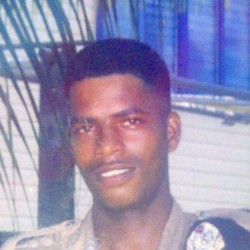 He held out his bloodstained vest and he said that police officers changed his clothing in order to get rid of the blood stains. Persaud added that he had marks and bruises on his legs and volunteered to remove his pants to display the marks from injuries he received.
"I never seen these policemen before; Thomas and Henry that picked me up wasn't there.
They had other officers. They took me where the incident happened and put people to look at me," Persaud said.
He also denied having any knowledge of the crime.
It is alleged that on September 23, at North Sophia Squatting Area, Persaud murdered Cumberbatch. Police had said that at around 8.40 pm on Monday, Cumberbatch was shot and killed by a man armed with a handgun at his North Sophia Squatting Area home.
According to the police, the perpetrator was inquiring about someone named "Quacy" at Cumberbatch's residence and an argument ensued, during which the policeman was shot to his chest.
The suspect, Sophia residents had said, was in the area most of the day making inquiries before the fatal confrontation.
Police, based on the information given including a description, arrested the man around noon on Tuesday.
Crime Chief Seelall Persaud said that the suspect had confessed to the crime and was identified in an identification parade
Prosecutor Seon Blackman yesterday informed the court that he was not in possession of the case file because it was sent to the Chambers of the Director of Public Prosecu-tions (DPP) and as a result he asked to be granted an adjournment of three weeks until the file is returned.
The adjournment was granted and Persaud was remanded to prison until October 17, when the case will be called at Court One.
After being remanded, Persaud, who was unrepresented by counsel, inquired of Magistrate McGusty whether he would be able to seek medical attention to treat his injuries.
The magistrate told him that she will make an order for that to be done.
Around the Web