With young people making up about 75% of the inmates in the country's prison system, Minister of Human Services and Social Security Jennifer Webster says "innovative" solutions are needed to steer young boys and men away from crime and towards education and skills training.
The issue of a large percentage of youth making up the prison population is not a situation that is unique to Guyana alone but it faces the entire Caribbean region, according to Webster, who said a Juvenile Offenders Bill, which has been prepared by UNICEF, may also be useful in addressing the problem here.
Webster said that the draft bill is presently at the Attorney General's Chambers. She did not say how long the draft has been with the AG. "There is a draft Juvenile Offenders Bill which spells out how you deal with juvenile offenders but that is really to be pushed through the Ministry of Culture, Youth and Sport," she said, while also noting that consultations on the bill are needed.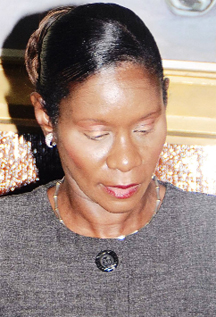 "That is part of the problem. The bill is at the AG's chambers but we have to have consultations before you can carry it to the Parliament and it will spell out all you need to do in working with juveniles and that sort of thing," she explained.
Late last year, the Director of Prisons Dale Erskine had said that 75% of inmates were young people—a disclosure that has generated quite a lot of comments particularly from the opposition.
Opposition leader David Granger had told this newspaper that the issue is one of serious concern and should be given top priority. He said that the problem needs to be tackled urgently in order to ensure that more youths are given a full education, which will lead to employment. Once this happens, he opined, there would be a reduction in youth crime. He also drew this newspaper's attention to the large amount of money that is spent on each prisoner on an annual basis; money that could be spent on creating avenues to steer youths away from a life of crime.
Chairman of the AFC Nigel Hughes also opined that the situation is one that warrants concern. For him, the creation of a National Development Policy to give young people choices to lead a successful life is the way to reducing the large number of youth who end up in prison.
Services
Asked about the youth population in the prison system, Webster said that her ministry is concerned but cannot deal with the situation by itself but rather there must be a multi-sectorial approach.
At the moment, she noted, the ministry does have a programme in partnership with the prisons where youth and men are targeted. "Right now, we provide services; our probation people, we have a regular day where they go and they work to counsel and so on with some of the prisoners and the Men's Affairs Bureau has been working with the prison too, with the men who are in prison, preparing them, like some of them who are coming out and so on, working with them," she said.
Webster told Stabroek News that the figure that was stated by the Director of Prisons did not come as a surprise to her as this is the situation that exists across the Caribbean. She noted that she and her ministry are well aware of the situation that exists in Guyana's prison system because they have seen the stats.
"The Caribbean is worst," she said, while adding that in Trinidad, for example, a violent crime is committed every day and it is people under the age of 18 who are the perpetrators.
"We have to find more innovative ways to deal with our men and our young boys, to encourage them to pursue higher levels of learning even if they don't want to pursue academics to have them have skills, train them," she said.
According to Webster, youths must understand that they can earn money through the skills they have acquired and not only by sitting in an office.
"If you do research, throughout the region this issue of male underachievement is an area of concern and the rising levels of male attendance and dropping out of school is rising," she observed, while adding that "male underachievement is really an issue of concern." She said too that at the Caricom-level studies will be done to find the root causes and ways it can be tackled.
Holistic approach
According to the minister, at an International Labour Organisation (ILO) meeting held in Trinidad in July, a call was made for the region to address the issue of under achievement in a holistic way by conducting studies aimed at identifying the root causes. "I know some of the root causes. Some of the root causes… is poverty. It leads to other things… social ills. There is a nexus too," she said.
Crime Chief Seelall Persaud also expressed concerns about what is happening with youth. He said that the police force has noticed that recently that there is a growing trend of youth being either victims or the perpetrators of crime.
He told Stabroek News during an interview a week ago that the social institutions that are presently in place are not like those in place years ago. He drew this newspaper's attention to single-parent homes and the fact that many youths are not taking advantage of the educational opportunities that are available.
Persaud said that the police force is doing all it can to deal with the trend and in so doing is stretching its resources thin. He acknowledged that more ranks are needed in the streets and noted that while a lot of persons are being recruited, at the same time the force is losing a lot of ranks, particularly the experienced ones.
Over the years, the police force has been making attempts to reach out to youths, including those living in troubled communities, by engaging them in activities such as sports, fun days and youth camps.
Around the Web