Bandits broke into Husain's Jewellery in the New Amsterdam market some time between Saturday night and Sunday morning and stole $1M in jewellery even though six constables were on duty.
Owner of the store, Ramona Husain told Stabroek News that the bandits emptied her glass cases that contained a quantity of gold, silver and diamond jewellery along with a diamond tester and gold scale.
The bandits also robbed other businesses including a haberdashery stall while attempts were made to break into two clothing stores and a few others.
They gained entry to the market by prising open the lock on one of the big gates located a few yards away from the guard hut.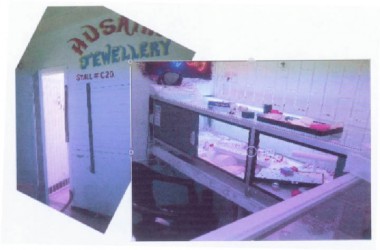 Husain noted that the bandits must have spent a long time trying to saw open the heavy metal lock on her store. She cannot understand how the constables did not hear the noise.
Stabroek News learnt that a constable reportedly heard a noise but ignored it after she thought it was coming from a domino competition nearby.
Husain and her husband, Zainool Husain, a jeweller received a call around 8 am yesterday that there had been a break-in at the market and that their store had been robbed.
They were distressed because the store had been broken into on three previous occasions, including twice last year.
Meanwhile, a man who had admitted to a previous break-in was sentenced to 10 years in jail. Husain said that even though he had told police that he sold the pieces to a man at the Stabroek market no attempt was made to recover anything.
Around the Web