Auditor General Deodat Sharma yesterday presented Speaker of the National Assembly Raphael Trotman with the Auditor's General's Report, a compilation of the audited financial records of Guyana's ministries, departments, and regions for the fiscal year ended December 31, 2012.
The Audit Act of 2004 stipulates that the report be completed by the ninth month each year and so Sharma was able to remain compliant with the law, albeit barely.
This is the fourth time, since taking office that he has been able to do this, and both the Speaker and APNU MP Jaipaul Sharma expressed appreciation at the accomplishment. The Auditor General stated that his office continues to pursue initiatives aimed at improving the efficiency with which the report is completed.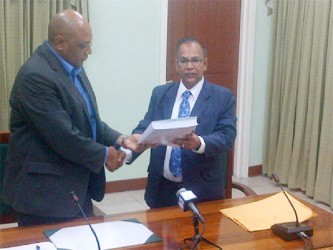 Several of its staff are pursuing certification recognised by the Association of Chartered Certified Accountants (ACCA). As it relates to existing qualifications, 23 of the Audit Office's employees are degree holders, while others are pursuing other forms of professional qualifications.
Trotman said he hopes to present the report in the National Assembly when the recess ends on October 10. From this point, the report will then he handed to the Chairman of the Public Accounts Committee (PAC) Carl Greenidge so that the committee can commence its work.
Once the PAC reconvenes later this year, its members, comprising MPs from APNU, AFC and the PPP/C, will be required to scrutinise its contents.
Over the next several months, accounting officer from various state agencies will be required to appear before the committee to answer queries raised by the Auditor General in his report. In cases where discrepancies are highlighted, the officer will be required to provide explanations as to what caused the discrepancy, and what measures were implemented to prevent future occurrences.
The sittings of the PAC are open to the public as it is believed that the people have a right to know how their money is being spent.
Around the Web