The Berbice Bridge Company Inc (BBCI) recently donated a television set, a DVD player and a voltage regulator to the Sheet Anchor Nursery School, Canje, Berbice.
A release from the BBCI said it had received a request from Sheet Anchor Nursery School's PTA secretary/treasurer requesting the donation to assist the school in delivering a literacy programme, as well as to access the Learning Channel.
The company said it was privileged to have the opportunity to donate the items to the school which will enhance the teaching methodology.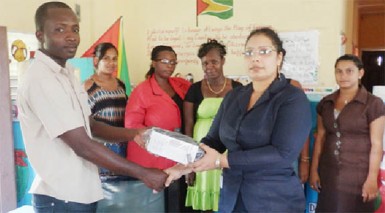 The BBCI said it has supported the education sector over the years by donating trophies and medals to a number of schools and technical institutions, waiving tolls for school tour buses transiting the bridge, and sponsoring the Rose Hall Town Youth and Sports Club's Annual Tribute to Retired Teachers Programme in addition to various school activities.
The BBCI reminded that it discharges its corporate social responsibilities by donating to charitable and non-charitable organisations, not just in proximity of the bridge or in Region Five and Six but in other regions.
Around the Web