A four-year-old girl of Cotton Tree, West Coast Berbice lost her battle to survive one week after being admitted to the Intensive Care Unit of the Georgetown Public Hospital (GPH) following an accident.
Varshanie Seelall who was said to have suffered a fractured skull and was placed on a life-support machine, never regained consciousness. Her conditioned deteriorated on Sunday, according to relatives.
The accident occurred around 9.50 pm on September 22 at Cotton Tree, a short distance away from her home. She was returning home from the East Coast with her mother, Jenita Seelall, 29, her uncle, Hardat and his wife, Drupattie along with a family friend, Devi.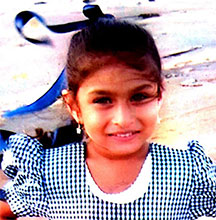 Hardat was driving a silver grey Toyota Carina car, PMM 8599 belonging to the girl's father when a burgundy Tundra slammed it.
She was rushed to the Fort Wellington Hospital along with the others who sustained various injuries. Varshanie and her mother were transferred to the GPH. The child was placed on a life-support machine and relatives had prayed for the best.
Fragments from the broken windscreen had also gotten into Jenita's eyes and she had to undergo emergency surgery at a private hospital.
A relative said she was sitting on her veranda when she saw the Tundra passing at a fast rate and thought that it would "make an accident before it reach the turn."
Before she knew it there was a loud impact but she "had no second thought that it was my people" involved. She later decided to call Jenita on her cell phone and she responded that they were in an accident.
Distraught relatives recalled that the child was very brilliant and brave for her age and loved to help with chores. The child who also loved to dress up "built a good relationship with people; she would call out to them whenever they pass," the grieving relatives said.
Around the Web