A businessman is being accused of endangering motorists and pedestrians travelling through the Lodge Housing Scheme as a result of his placement of a container and other items at the corner of a narrow roadway.
According to Paul Woon, a resident of the community, the container and other items that belong to businessman Conrad Macey are not only an eyesore  but they are making it very difficult for drivers to travel in and out of the street.
Of even more concern, Woon said, is that wooden boxes are being placed on the top of the container and may pose a danger to students of the nearby Enterprise Primary School who frequently traverse the street.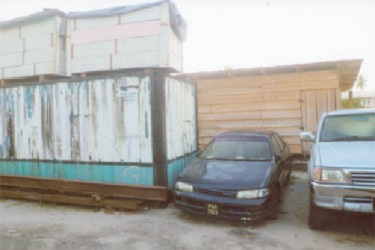 Woon also said that the neighbourhood is usually very dark at night and the items junked up at the corner of the road can create road accidents.
He said that numerous complaints have been made to Macey but the man has refused to remove his belongings from the corner of the road.
Macey, however, said he has never received a single complaint from anyone residing in the neighbourhood. "Some people are very difficult. If someone needs to pass, I normally remove the trailer so they can pass. The road is not blocked. I recently bought the land behind where the container is parked and I am working on developing the land, so I can take my stuff off of the road," he explained.
When asked how long he has been storing his belongings at the corner of the road, he said that he does not store anything at the corner of the road and that the items present have only been there for the past two months and he plans on moving them very soon.
Macey said that since he has bought the land, persons in the community who squatted on it in the past have become upset because their privileges have been cut short. "This is just complete bad mindedness," Macey added.
He also said that the boxes stored on the top of the container are solid boxes and he strongly rebuffed the suggestion that they could fall and injure anyone.
Around the Web