Teachers and Grade One pupils of the One Mile Primary School in Linden turned up for classes yesterday to find their classroom flooded.
The flooding, the second such occurrence since the term began, was as a result of the heavy rainfall in the mining town over the weekend. Upset parents said that the situation needs to be urgently addressed as hours of classroom time are being lost.
Education and regional officials could not be reached for a comment.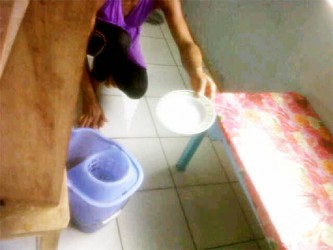 Carol Dugan explained to Stabroek News that after the school was gutted by fire last year, the Grade One pupils were being housed in a section of the nearby One Mile Nursery School.
The parent said teachers were forced to take off their shoes and go inside to "bail out" the water with bowls and whatever else they could find. Some parents also assisted, Dugan said, while noting that it is unclear if the other section of the school where the nursery children occupied was also affected.
According to Dugan, all the items which were decorating the walls, such as the teaching aids, were soaked. She said that on Saturday there was heavy rain and heavy breeze.
The woman said she is very concerned over the situation, especially since it appears as though there would be flooding every time it rained. The woman said the school experienced a similar situation last week. Over the past week, sections of the country have been hit by sudden and irregular rainfall.
Dugan said it took over three hours for classes to resume yesterday.
She said she inquired from the teachers what was being done about the situation and was told that contact was made with education officials but nothing had yet been done to correct the situation.
Meanwhile, Dugan said that students would be unable to use the washroom facilities as someone had stolen all of the black tanks. The two schools are located close to each other and so as to ensure adequate washrooms are available for all the children, the ones for the Primary School are utilised. They were spared during the fire.
Dugan said residents claim they did not see anyone removing the tanks.
She noted too that the rebuilding of the school is at a standstill and at the moment no one knows when it would restart. Rebuilding started through self-help efforts.
Around the Web