A senior medical practitioner of New Amsterdam succumbed on Sunday night while receiving treatment at the New Amsterdam Hospital following an accident on the Berbice coast.
Phyzul Sattaur, 69, of Lot 5-7 Coburg Street, New Amsterdam was involved in a motor vehicle accident on the public road at Number 11 Village, East Coast Berbice.
Sattaur was rushed to the New Amsterdam Public Hospital, where he was admitted to the Intensive Care Unit (ICU) in a critical condition. Owing to his condition he could not be moved and subsequently succumbed.
A police press release stated that around 21:00 hrs the car which was being driven by Sattaur, PJJ 6228, collided with the right side rear of a motor lorry, PP 251, driven by Morbeeai Ramcharran of Lot 85 Number 2 Village, East Canje, Berbice. The release indicated that the motor lorry was proceeding west along the southern side of the road when the collision occurred. Ramcharran sustained minor injuries and was treated at the hospital before he was taken into police custody.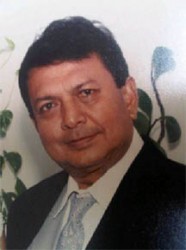 Ramcharran had stated he was driving at a normal rate when he felt an impact to the rear of his motor lorry.
The doctor's widow Dolly Sattaur told Stabroek News yesterday that her husband was returning from a cricket match at Albion, Corentyne. She said he had left to attend to a doctor's meeting also in Albion.
She said she was told that her husband's car slammed into the truck's rear. However, she speculated that her husband, "probably did not see the truck, the road does be dark…".
The woman recalled that she received a call from a friend who asked for the licence number of her husband's car. After giving the number, she was told that her husband might have been involved in an accident. The distraught wife said she promptly made a telephone call to the hospital where she confirmed her worst fear. She said when she asked, she was told the doctor has been admitted as a patient.
Mrs Sattaur said when she got to the hospital, she received the heart-shattering message that her husband had died around 9.45 pm.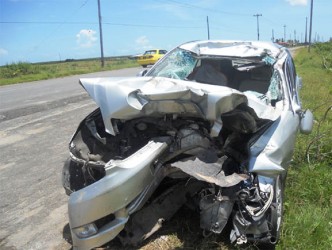 At the time of the crash, Dr Sattaur was driving home. According to his widow, she last spoke to her husband around 6.30 pm when he called to say he would be home in half an hour. She added that it was not normal for the doctor to travel by himself after the sunset.
Meanwhile, Stabroek News was told that the doctor sustained major injuries to his head, abdomen and face. His body is currently at the Persaud's funeral parlour awaiting an autopsy.
Dr Sattaur was described as a simple and kind individual. He leaves to mourn his wife, four children and four grandchildren. He had been in the medical field for over 40 years.
Around the Web