Volunteer Youth Corps (VYC) hosted its second graduation, exhibition and sale for 2013 for 40 graduates from its Women Empowerment Programme (WEP) held at the National Library conference room last month.
The women completed three-month courses in the cake and pastry making, cookery, curtain design, sewing and floral design, VYC said in a press release. The courses were conducted at VYC's office and at the Revealed Word Christian Centre in Kitty.
VYC CEO Goldie Scott congratulated the women on completing the programme and noted that the organisation has women as a primary focus in its new three-year strategic plan.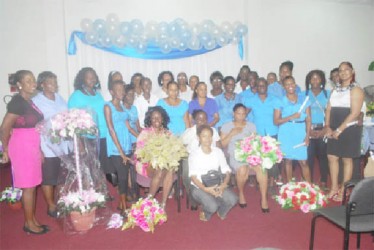 In her feature address, Gillian Edwards, Fund Manager of the Small Business Bureau of the Ministry of Trade and Tourism emphasised the importance of investing in women as part of economic growth. She outlined some opportunities available at the Bureau and through other development partners. Edwards also encouraged the women to stay continue to focus on their goals.
Her admonition was reinforced by course teachers Vanessa Williams, Lavern Gibson and Gail Williams, who also related their experiences in working with the graduating students and charged them to continue to progress in their field.
Keerti Hardowar-Singh, Coordinator, for WEP, then distributed certificates to the graduates.
The objective of the programme is to empower women with relevant vocational skills as a means of becoming self-reliant.
Around the Web