Eight broadcasters, including the state-owned National Communications Network (NCN), have been given until the end of the month to get their licensing in order, Chairperson of the governing board of the Guyana National Broadcasting Authority (GNBA) Bibi Shadick announced yesterday.
Shadick revealed that of the eight entities that were written to by the GNBA in the latter part of September to get their paperwork in order, NCN received two letters for its television and radio licence applications.
The remaining seven are STVS Channel 4, the Learn-ing Channel, NTN Channel 69, Jacob Rambarran Broad-casting Systems, WRHM Channel 7, Tarzie Transmis-sion out of Bartica and the New Guyana Company Limited (the PPP/C-aligned media corporation.) Shadick expressed disappointment that NCN and WHRM, who she noted were two of the oldest broadcasters in Guyana, were among those still to get their houses in order.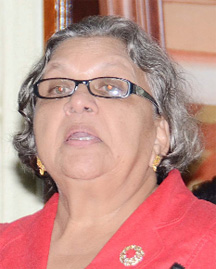 She said that while NCN has taken an inordinately long time to submit its notice of directors, WRHM has not submitted any paperwork for the two stations which it currently broadcasts on. In relation to the Learning Channel, Shadick stated that, "I can't blame the channel itself, but they are broadcasting as a channel. But I think between the Ministry of Education and whoever else is responsible, they have to set about forming a company or a trust or whatever because if there is a television station broadcasting, it has to be licensed, whether or not fees will be waived for it or not that is a different story."
Shadick also announced that Television Guyana Incor-porated Channel 28, GWTV Channel 2, Multi-Technology Vision Incorporated (MTV) Channel 65, Radio Guyana Incorporated (associated with TVG), Pinnacle Communica-tions, and Telecor and Cultural Broadcasting Incor-porated will receive licences as soon as they are gazetted. Both Pinnacle, owned by businessman Alfro Alphonso, and Telecor, which has been involved in court proceedings that have blocked the entity from setting up its broadcasting tower and offices, have yet to start broadcasting.
Telecor was registered by its Secretary Omkar Lochan, who is also the Deputy Permanent Secretary of the Natural Resources Ministry. The entity does also have ties to Minister Robert Persaud's sister and wife, currently the General Manager of MTV 65.
Shadick also disclosed that 29 new applications will be looked over in the following months. She drew attention to the fact that Region 10, Stabroek News and Capitol News had not submitted new applications for licences. She pointed out that Stabroek News has been vocal about the granting of licences in the past. "We do not have an application from Stabroek News for anything and we do not have an application from Capitol News for anything," she noted. Stabroek News' parent company had applied twice before but its applications had been ignored by the decision-makers while other applicants with questionable media credentials were granted licences by the Jagdeo administration a month before the 2011 general election.
Shadick said that when considering new applications, availability of space on the spectrum would be among things to be taken into consideration. "We haven't gone digital yet… we have to look at too if everybody wants to broadcast in Georgetown. I mean, that might not be possible," she said. "If there is somebody who tell us that 'I would want to broadcast in Mahdia'— I mean, somehow we are going to try and prioritise areas that don't have any kind of broadcast service," she added.
Meanwhile, Shadick said that there was no timeline in place for person to actually set up an entity which would broadcast. However, she did say that the Board would have to be open to going back and speaking with persons who have been granted licences and have not developed any broadcasting capabilities because the number of frequencies is limited. She said that speaking with persons and seeing if they do have plans to develop may be worth considering in the future but she stated also that "if a man comes and pays for this frequency that means he intends to use it." Added to that, she said that beyond licensing, prospective broadcasters would also need to purchase equipment for significant money and that equipment would also need to be brought into Guyana. She noted that the process will be lengthy and thus persons who have been given licences and paid their fees would need time to develop broadcast capabilities.
Shadick also said that the role of the National Frequency Management Unit (NFMU) until the setup of the Telecommunications Authority will be to ensure that person don't operate frequencies without licences. She said that the GNBA and its governing board have a collaborative relationship with the NFMU, while noting that the law states that when an application for a broadcast licence is submitted, the governing board of the GNBA is responsible for sending that application to the NFMU for allocation of a frequency.
Shadick stated that since the Board was set up almost a year ago, a lot has been accomplished. She also noted that the GNBA was in the process of becoming an actual authority in accordance with the Act.
Around the Web