Minister of Agriculture, Dr Leslie Ramsammy is hopeful that the 5,000 tonnes of fertilizer coming from Venezuela as part of the PetroCaribe Agreement will get here within days.
He said on Sunday "It's the ships…we finally found one but they have to approve it before anything can happen, but for now we found a ship capable and we can expect the shipment soon."
Dr Ramsammy noted that the shipment was due since the middle of the month but that a ship had to be hired. Dr Ramsammy told Stabroek News that he was a bit impatient and while rice farmers would not be utilising the fertilizer at this time since the harvest is ongoing, he would rather have the 5,000 tonnes in Guyana and ready for packaging and distribution.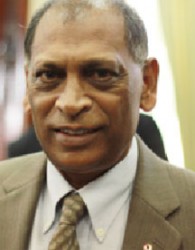 Dr Ramsammy noted that a certain type of ship had to be hired for fertilizer and locating one had proved difficult.
He said that "it is not like a ship taking rice can come back with fertilizer, it doesn't work that way…we have to hire out these ships, so finding, then hiring does take time."
Previously the ministry had stated that the first shipment of fertilizer was expected to dock in Guyana by September 21 at the latest. However, the ship issue caused such a significant delay that the ministry had to send a team to Venezuela to address the issue last week.
The shipment expected will comprise approximately 100,000 bags of 50-kg fertilizer which will be sold for $5,000 per bag. Currently rice farmers can pay up to $10,000 per bag of 50 kg fertilizer.
Previously, through the Guyana Rice Develop-ment Board, the ministry had distributed fertilizer to farmers who were affected by the paddy bug infestation in the Essequibo region.
Also, over $25 million was provided through a programme to help combat the paddy bug in the second harvest.
Farmers who spoke to Stabroek News are hoping that the fertilizer that is part of the PetroCaribe Agree-ment will be better than what was received earlier on.
One farmer did acknowledge that while the GRDB and the ministry will be assisting with   the distribution of the PetroCaribe Agreement fertilizer, they will be purchasing the product as opposed to the fertilizer that was given out for free as compensation for the paddy bug infestation.
He stated that "this fertilizer that they are bringing we are going to be buying so the quality has to be better than the couple bags they gave to use before".  He continued that the expectation is that while the price will be significantly lower than what farmers currently pay, "we expecting this to be just as good as what we are getting now or better."
Stabroek News spoke with a farmer who had previously stated that the GRDB had given out fertilizer that was in clumps, indicating that the necessary qualities were not present.
He stated that "we are getting this fertilizer and we want it sooner than later, because the ministry will need time to package and see what the nutrient level is at."
He said that "this we are going to pay for and they giving us a discounted price, but we can't have fertilizer that is bad quality".
Farmers won't begin to plant the next rice crop until November.
However, the ministry and farmers are expecting the shipment before to ensure that packaging and deployment are finalized before.
The fertilizer pact was added to the PetroCaribe Agreement this year and in May Dr Ramsammy met with his Venezuelan counterpart, Minister of Food Felix Osori, to sign the rice deal which will see 210,000 tonnes of rice and padi being shipped to Venezuela in a US$130 million deal.
Around the Web