The Student Empowerment Alliance (SEA) was yesterday announced the winner of the University of Guyana Student Society (UGSS) elections this year.
Following the announcing of the results, SEA presidential candidate and now UGSS President Richard Rambarran said that he will be working to reform the constitution to facilitate greater student involvement.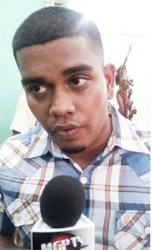 He also shared plans to partner with the private sector in an effort to garner more funds to supplement the Society's undertakings.
Around the Web