A Brazilian national was yesterday sentenced to 24 months imprisonment after pleading guilty to stealing from a special constable guarding the home of the Home Affairs Minister.
Roderick DaSilva, 30, speaking through a translator, said that he made an error in judgment, when he appeared before Magistrate Judy Latchman at the Georgetown Magistrates' Court.
The charge against DaSilva stated that on September 26, at New Garden Street, Queenstown, he stole a Nokia cellphone, valued $7,000, a BlackBerry cellphone, valued $30,000 and a wrist watch, valued $40,000, valuing $77000 in total and property of Arthur Murray.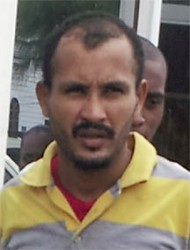 According to Prosecutor Vishnu Hunt, on the day in question at about 3pm, Murray, a special constable attached to the Minister of Home Affairs' residence, was performing his security duties at the residence. Hunt said Murray left the guard hut to do routine checks at the back of the premises and left behind his phones and watch.
He added that while Murray was doing his checks, he heard the front gate open and upon checking he saw the defendant leaving the yard with his haversack. Murray then challenged him and he threw the haversack into a nearby yard. The matter was reported to the police and DaSilva was later arrested and the articles recovered.
With the aid of the translator, DaSilva told the court that he was in agreement with everything said. He also said that he was working in Venezuela and was brought to work in the interior by his boss. DaSilva said that he contracted malaria and was unable to work and subsequently travelled to Georgetown for treatment.
In determining the sentence, Magistrate Latchman weighed the fact that DaSilva has two minor children in Brazil alongside the fact that the crime was a well-organised and senseless act and its prevalence and seriousness in the society.
Around the Web