Jafar Seetaram, 19, one of the six men charged with the vigilante killing of Alfred Munroe, 45, called 'Guana Man,' on May 9 in Rose Hall Town, walked out of the Whim Magistrate Court on Monday as a free man.
Seetaram, of Rose Hall Town, Corentyne, was freed after Magistrate Rabindranauth Singh ruled that there was no evidence linking him to the murder of Munroe and upheld a no-case submission made by his attorney Mursaline Bacchus.
A Preliminary Inquiry (PI) is still underway into the charge against the other accused, Rudolph Samuels, 21, Aris Cecil, called 'Safick,' 20, Richard Griffith, called 'Brick Head,' 18, Michael Lewis, called 'Mikey,' 27, Khrishnaraj Jagdeo called 'Chris', 47, all of Free Yard, Port Mourant, Corentyne, who were charged with the murder of Munroe on May 12, 2013.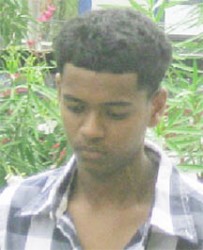 The PI is expected to conclude on October 7, 2013, at the Whim Magistrate's Court.
On May 9, Munroe and Anniesha Persaud, of Rose Hall Town, were accused of stealing from Priceless boutique and they were severely beaten by a gang of men.
A police press release had stated, "At about 07:30 hrs, (on the day in question) while police ranks were investigating a report of break and enter and larceny committed on a [clothing] store… information was received that persons, including alleged relatives of the victim, were beating a man and a woman whom they suspected had committed the act."
Additionally, law enforcement intercepted the vehicle at Williamsburg, Corentyne, and found Munroe, and Persaud in the trunk tied with rope and with visible injuries about their bodies. Munroe succumbed after an hour due to injuries he sustained from the sound thrashing.
Persaud, a key eyewitness, was the victim of a fatal hit and run vehicular accident on June 30, 2013.
Around the Web