House Speaker Raphael Trotman says that despite his efforts, he has not been able to remove the vagrants and junkies who seem to have made the surroundings of Parliament Buildings their home. The presence of vagrants around this very important national building is a longstanding issue which for some reason is yet to be effectively addressed.
On Monday, Trotman said that he had spoken to several sets of officials about the problem, including the Guyana Police Force and the Ministry of Health. Instead of addressing the issue though, each of the bodies has refused responsibility for removing the vagrants, and is pointing fingers at the other.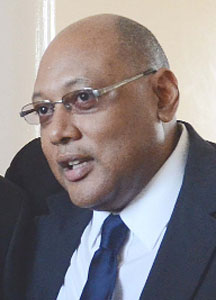 Trotman, though, said that he is committed to enhancing the building's surroundings, and added that he will continue his efforts. This undertaking is part of a larger initiative to beautify and improve conditions at Parliament Building.
The building's roof as well as the furniture in Parliament Chambers is being refurbished while several defective air-conditioning units located in the same room have been replaced. Trotman also said that Members of Parliament will benefit from lavatory facilities separate from those used by other occupants of the building.
Additionally, there will be greater separation of the male and female lavatory facilities so as to afford the ladies a bit more comfort.
Around the Web