Trumpeting the need for a cheap energy source to support investment and development,
President Donald Ramotar yesterday said that the millions spent so far on the stalled Amaila Falls Hydropower Project have not been wasted and once again pledged to make it a reality.
"We need to have more advanced infrastructure… like our deep water harbour, a paved road to Lethem from the coastal area, new airport… and probably one of the most important [things] for us is developing cheap energy," Ramotar said during his address before declaring GuyExpo 2013 open at the Sophia Exhibition Centre last evening.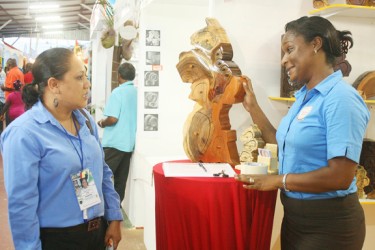 He told those gathered that at the moment there are a lot of raw materials available for the development of this cheap energy but "we are not able to do enough value added because we generate energy as too expensive a cost. That is why the Amaila Falls project is important not only for Guyana… but it is a very important project for the Caribbean. It is a very important project for integration."
He said that if Guyana can use its natural resources for its development, it will benefit all the people in the region. "Even though we have this setback I am determine and I will work continuously with my cabinet, with the government and I appreciate the support I have been having from the private sector," Ramotar said, while adding that "we have not spent US$30M to build a road to nowhere. We must make Amaila a reality for our country and for our region."
"We have huge possibilities. We have land. We have water. We have possibilities of producing many things but you will go into our shops and see us importing peanut punch. Why? Because we lack cheap energy and that is something that we have to correct," he said, during a speech where he mentioned that very soon Guyana will have a new brewery to produce "our beers to give ourselves more choices" and a new beer.
Developer Sithe Global walked from the Amaila Hydropower project in August, in wake of its failure to win the unanimous political backing due to main opposition APNU's refusal to
support enabling measures during a parliamentary vote.
GuyExpo, being held under the theme "Advancing productivity through innovative modernisation and expansion," will wrap on Sunday.
Ramotar said that the event is getting better each year and he added that this year not only are there exhibitors  from the Caribbean and South America but further afield, which he called an important development, especially in the quest for integration. "In South America and in the Caribbean, the manufacturing sector, they have a very important role to play in this process," he said.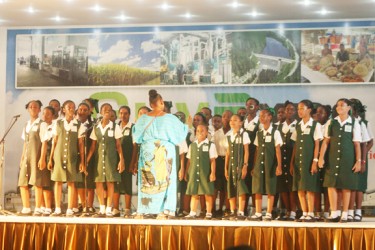 He said that where Guyana is located geographically, the country is poised to make a significant contribution to this process as with Suriname it forms "a good bridge between these two important regions and can make integration a reality."
Ramotar added that the access that investors will have to a market that is more than five hundred million strong in 33 countries is among the reasons why Guyana is a good place to invest.
Ramotar also said that the government has been investing heavily in both social and physical infrastructure. "That I think can help us to accelerate development in the various areas," he said, while singling out construction of new roads on the East Coast and East Bank of Demerara and plans to construct some linking these two areas, a new crossing for the Demerara River for which a feasibility study has just been completed, and the development of the Lethem industrial site as being among the developments that would attract investments.
"We have come a far way in repairing what we had found destroyed in 1992 and we have added to that significantly," he stressed.
A platform
Maxine McClean, Minister of Foreign Affairs and Foreign Trade of Barbados, also spoke at the opening and she noted that because of the challenging economic climate in which we live, entrepreneurship and business development are essential features to assist in developing the economy. "Therefore initiatives such as GuyExpo are extremely important and indeed vital to provide a platform for both local and foreign businesses to increase their competitiveness and efficiency and foster growth," she said.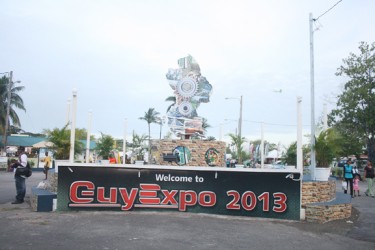 She noted that it has been recognised that an economically viable Barbados operating in a challenging global market place will have to depend on a diversified entrepreneurship economy. She called for more sharing, innovation and investments between the two countries, so as to enable each other to emerge from "the trials of our time."
Meanwhile, acting Minister of Tourism Irfaan Ali said that the government has led the country in an "economically sound way" by investing tremendously in the social infrastructure. He said over the years the government has adopted a number of strategies to help foster economic growth, particularly in the areas of agriculture, mining and services.
He said macroeconomic management, fiscal deficit and public debt has been on the decline since 1992.  He said too that there had also been an increase in foreign direct investment.
Ali also touched on the country's latest ranking on the global competitive index. Among the major improvements, he said, included cost related business, cost and productivity of local labour and quality of our labour force and education system.
In terms of the availability of financial services, he said, Guyana is ranked at number 70 while Suriname is ranked 123, Trinidad 82 and Jamaica 64. In terms of the affordability of financial services, he said, Guyana is at 72 while Suriname is ranked 120, Jamaica 92 and Trinidad and Tobago 109. In relation to the ease in accessing loans, Ali said Guyana is at 76 while Jamaica is at 127, Suriname at 103 and Barbados at 79.
The future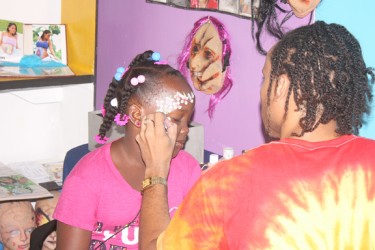 Clinton Williams, the President of the Guyana Manufacturing and Services Association, said that Guyana's economy has been recording 5% GDP average growth over the last five years, which he attributed to the "creativity of the government and the people in pursuance of programmes and policies geared towards stimulating the economy."
He said that this has been set up in numerous policy documents, including the Low Carbon Development Strategy and that the private sector has played a huge role not only in the development of these strategies but also for monitoring them.
Ramesh Dookhoo, Chairman of the Trade and Investment Committee added that it is generally accepted that the private sector is the future of Guyana. He said that there is an expansion of the services sector, especially in the area of call centres.
Guyana also has an advantage in agriculture, he said, while adding that the manufacturing sector is one of the largest employers of labour and contributors to our national coffers. He noted though that it has been plagued by slow growth over the years and saw slippages in its contribution to the economy. He said that this is being blamed particularly on the cost of energy. The private sector, he said, has collaborated with the public sector with respect to the Amaila Falls project. "It is sad that… that project has been shot in the leg," he said, while adding that many manufactures had their hopes dashed when this project failed to become a reality.
He said that the manufacturing sector is bedrock to many emerging as well as developed economies in the world and in Guyana we must recognise its importance to creation of value-added industry and the crucial diversification of the economy.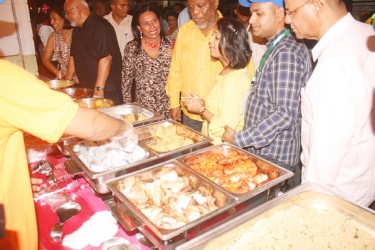 He also said that there is a nexus between a smoothly functioning legislative branch and the health of the economy and this cannot be ignored.
Noticeably absent at yesterday's opening were opposition leader David Granger and leader of the AFC Khemraj Ramjattan. At least two APNU MPs were present but none of the key AFC figures were. Those in attendance included members of the diplomatic corps, members of the business sector and government officials.
The opening also saw the Tourism Ministry launch its "I Believe" campaign, aimed at galvanising public support for the country's potential.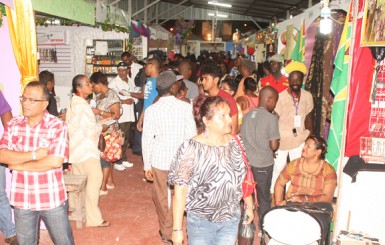 Around the Web