Motorcyclist Revon Austin, 22, who has been hospitalised after hitting two persons on Tuesday evening, has been charged with vehicular homicide.
Austin, who resides at Canvas City, remained in the Intensive Care Unit (ICU) of the Linden Hospital Complex yesterday following the accident, which claimed the life of Nederne Charles.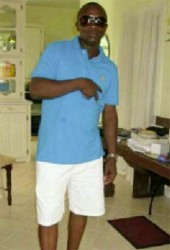 According to an eyewitness account, Charles was walking in a westerly direction on the Winifred Gaskin Highway, at One Mile, around 8.45pm when he was hit from behind by Austin. According to the witness, the motor cyclist had swerved from a dog and hit Henry Belgrave, 13, before careening into Charles. Both Charles and Austin bled profusely from their head and seemed to have suffered multiple injuries from the accident.
It is said that Charles, a bus conductor, who resided at Lot 111 Amelia's Ward, was walking towards a wash bay where he had left his bus when the accident occurred. He died about six hours later-around 2.30am—on Wednesday.
According to an official of the Linden Hospital Complex, Belgrave, who sustained minor injuries, has been discharged from the medical facility.
Around the Web