A mother of four was yesterday stabbed multiple times at her home by two persons, one of whom was apprehended and confessed that her male accomplice was paid to commit the act.
Linda Phillips, 32, of 45 Crown Dam, Industry was stabbed several times to her chest and back and was up to press time a patient in the female surgical ward at the Georgetown Public Hospital.
Neighbours later said that it was a well-executed attack as the female suspect donned a wig, surgical gloves and carried a bag with medical items.
"This was a well-planned thing. This girl had on a wig and she had on gloves cause like she didn't want to leave fingerprints. They catch she in the bush with only she bra on. The guy that she was with got away and there was a high speed chase by the police but they ain't catch he. She shout out that they get paid to kill the woman but we don't know why," a resident said.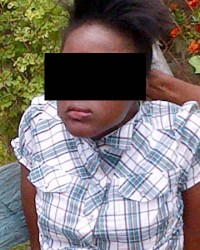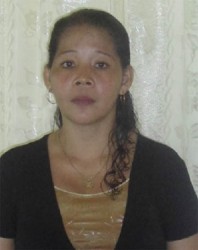 According to Phillips' landlord Pamela, she was upstairs around 10:30am when she heard her tenant screaming for help. When she looked out, she saw her holding her back at the gate. "I hear she screaming all the time and when I look out I see she at the gate with a set of blood and she was holding her back. She was home alone at the time," the woman recalled.
One neighbour said that she heard hollering and when she ventured outside she heard her nephew telling her that Phillips was just stabbed. "I say, 'Man, look two persons just gone through the street, a boy and a girl, see if y'all could catch them 'cause is thief.' And they catch she and she say that the boy say that he was paid to kill this… woman. She had a bag with a set of stuff," the neighbour said.
When Stabroek News made contact with the Police Public Relations Department to ascertain if the second suspect was nabbed, the female who answered said that the acting Public Relations Officer was not there, and she was unable to provide any information.
Around the Web