The Humanitarian Assistance Programme (HAP) of the United States Embassy in Guyana collaborated last weekend with the Ministry of Health and the Linden Care Foundation to conduct a medical outreach and humanitarian donation in Ituni and Kwakwani, Region 10.
A release from the US Embassy said that during the two-day event, medical personnel were able to treat 80 residents from Ituni and 112 residents from Kwakwani. The medical outreach provided care to the residents in the form of dentistry, HIV testing, counselling and general medicine.
Upon the conclusion of each medical outreach exercise, the HAP team donated the unused over-the-counter medication, antibiotics, and pain medication to the medical facilities. The donations will enable the clinics to continue to provide better medical treatment for those outlying communities during daily operations.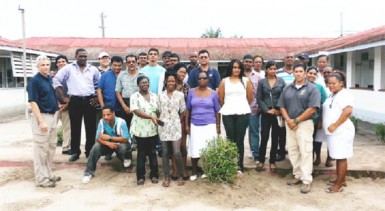 The release said that the HAP team also donated over 200 pairs of shoes, clothing, and cleaning supplies from the Food for the Poor NGO based in Georgetown. Doctor in charge at Kwakwani, Cerdel McWatt, expressed his gratitude to the US Embassy for the assistance.
According to HAP, the participation of volunteers from the Linden Care Foundation and the Georgetown East Medical team, led by Dr Errol Bassoo, ensured the success of the medical engagement. It said that Deputy US Chief of Mission Bryan Hunt accompanied the HAP team, visiting patients and pledging continued support from the US Embassy for medical outreach exercises.
HAP Director Kevin Plewniak said that last weekend's medical outreach exercise was part of the US Embassy's ongoing commitment to work with the Government of Guyana, through the Ministry of Health to provide medical assistance and other humanitarian projects to the people of Guyana.
Around the Web