Opposition Leader David Granger did not oppose President Donald Ramotar's proposal to confirm acting Commission of Police Leroy Brumell because he believes he is the most senior and best-qualified man for the job.
Granger, who is also the APNU Leader, visited the Office of the President (OP) on Wednesday afternoon to discuss Ramotar's nomination of Brumell for confirmation as Police Commissioner.
During an APNU press briefing yesterday, Granger explained that he did not oppose Brumell's nomination because he thought Brumell the best suited person for the job.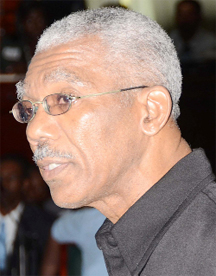 Brumell has held this portfolio since 2011, when his predecessor Henry Greene stepped down following a rape scandal. During last year, Ramotar and Granger met with the intention of deciding on a permanent placement for the office of Police Commissioner. These talks yielded nothing, as Ramotar's man of choice was current Crime Chief Seelall Persaud, while Granger was in favour of Brumell. As consensus was not achieved, Brumell continued to act in the position.
Speaking to the press yesterday, Granger said that while there are several ailments afflicting the Guyana Police Force in general, he considered Brumell the best qualified man to confirm as Police Commissioner.
More than his years of service and experience, Granger said that Brumell has  held the acting Commissioner position for some time now, thus making him familiar with the requirements of the post, and therefore the best suited candidate.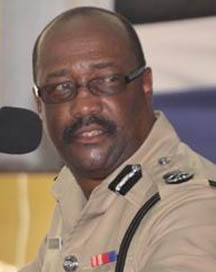 For some time now, APNU has criticised the inefficiency of the police force and Granger was asked why he would want the man who has sat at the helm of this this inefficient force confirmed as its Commissioner. He explained that it is the administration's mismanagement of the force which has brought it to where it is now. Instead of Brumell, Granger said, he and his party continue to lay the blame for the deterioration of the force at the feet of Home Affairs Minister Clement Rohee.
Under Rohee's policy direction or the lack thereof, Granger argued, several recommendations that could have led to a better police force have been ignored. Even the Security Sector Reform Project which the British Government offered to fund was refused, Granger lamented.
Instead of progress, he said, the public security crisis continues. "The party [PPP/C) has not accepted responsibility for the high rate of armed robberies, murderous maritime piracies, rampant gun-running, trafficking in persons, contraband smuggling and other violent crimes," Granger told reporters.
Because of this, APNU will maintain its no confidence in the Home Affairs Minister. Owing to what it said was Rohee's incompetence to carry out the mandate of Home Affairs Minister, APNU voted with the Alliance for Change (AFC) last year to pass a no-confidence motion against the minister.
He was not removed from his position though, as it was determined that the laws governing Guyana's political system do not make provisions for ministers to be removed by such a process. As a result, APNU and AFC, on several occasions, took several steps in an effort to prevent Rohee for functioning in the National Assembly.
Granger yesterday said that APNU will continue to press for Rohee's dismissal, and he expressed optimism that President Ramotar will eventually see the sense in taking such a decision.
Around the Web