Linda Phillips, who was duped into letting her would-be killers into her home and subsequently stabbed multiple times, said yesterday that the person who allegedly put a contract on her life had made an attempt to have someone harm her before.
Speaking to Stabroek News from her hospital bed, even as the second suspect and the alleged mastermind remained at large, Phillips said it was shortly after her son was born that she was warned by a friend of the then contracted killer. She said the man had driven up to her gate in a black car and asked her certain questions.
"…He ask me if the guy [her reputed husband] was living with a red person before me, and I tell he that I never see the person before. Then he start tell me how this woman pay he friend $150,000 to do me something before the baby born," she related. "He tell me that he get mother and sister and that he decide to come and shine me and he wouldn't like nobody to hurt me. Everything he tell me, the woman name and how she does know all we whereabouts. I believe she de planning this thing for years."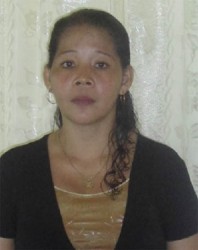 The woman said that although this information was relayed to her, she brushed it off. "I never reported it or anything. He beg me not to call he name, and I tell he I won't call he name 'cause I don't even know him. He say that he got she on record and that he gone tape it out on a cd but I never see he after that. So after I never heard back from him, I never followed it up. My husband hear what he was telling me cause he came home at the same time," she said.
Speaking of Thursday's attack, Phillips told Stabroek News that the young woman who was arrested had approached her under the guise that she was a doctor who had just returned from Cuba.
"I was washing and I see this girl trying to loose out the back gate, The boy went by the road stand up. At first I thought was Jehovah Witness but I say, 'Man, Jehovah Witness now? And I gah me house work to do?'" she related.
"I gone and I deh inside and she come by the kitchen door and she keep knocking and calling. She gone by the front door and she knocking but I still ain't answering them. I peep them through the crease and then me ain't see them," the woman said.
But they were persistent and determined. Phillips said she then ventured outside and found that they were still there. She said the female told her that she was a student from Cuba and was doing a medical outreach. "She ask me if she can check my pressure and sugar and I say okay. We go inside and she checked my pressure and she start tell me I must check my diet and so on," she said.
Phillips still did not sense that anything was amiss, even when the woman asked her about her marital status. "I tell she I got four children; three with my first husband and one with the man I living with. I telling she and I still ain't get no hint that she would have done something like that. At first I watch she and I didn't even know how to answer she. She turn and ask me 'if the baby is for the man you living with now?' I say yes and then she start search up for the sticker to check my sugar," Phillips said.
The woman said the first sign she had that something was wrong was when the young woman asked her companion to go to the vehicle for an item she needed. "She say that she want to check my sugar but when she look in she bag she realise that she didn't have the strip to do the test so she asked the guy to go for it, but he just sit there and I get a feeling that something ain't right. She ask me for a glass of cold water and I tell she that I don't have and she said that she gon use the ordinary water… After she drink it, she tell me give she a couple of minutes because she tired."
It was soon after, Phillips said, that the woman held her down while her accomplice started stabbing her. "I feel he hand come over me mouth and then he start stabbing me. At first I didn't know if is shoot I get shoot but I just feel me whole body get numb and then I start to holler and I fall to the ground. He stop and start watch me. I get up and start go outside and she push me back and tell me, 'don't go outside'. I push she and I run outside hollering for help."
Meanwhile, her reputed husband Gary Carrington said he was told that the person behind the gruesome attack was someone he had shared a brief relationship with years ago. "We had a relationship in 2009 and it only lasted for two months. She wants me back but I don't have time with her," he said. "I moved on and living with Linda for close to three years and we have a child together."
Residents had recalled seeing two well-dressed individuals, a young man and woman, entering the yard. It was their swift action after Phillips cried for help that led to the capture of the woman, who was hiding in a clump of bushes.
The woman reportedly confessed to the police shortly after her arrest that she had been promised the sum of $130,000 if she killed Phillips. She had been told that Phillips was having an affair with the husband of the woman who had hired her and she contacted one of her neighbours and told him about the job.
Around the Web