Royal Woodworking, which closed the doors on its Alexander Street store last week after over 50 years in business, is expected to become the latest location in the city rented by Chinese merchants.
Locally-owned businesses have been increasingly renting their spaces or selling property that was traditionally owned and operated to Chinese nationals.
Stabroek News understands that Royal Woodworking was contemplating selling the building, but later decided that renting the space was the right move for now. When contacted, the proprietor said he did not wish to comment further but promised to do so in the future when decisions were finalised.
Last July, Kissoon's Furniture store moved its business to the industrial site and sold its large showroom/warehouse building located at the corner of Camp and Robb streets. The Chinese-owned GC Gold City Hardware Store has occupied the space since them.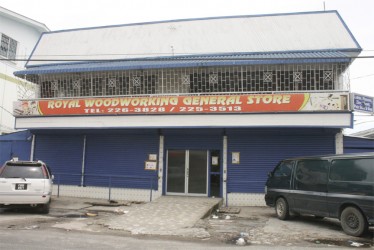 Managing Director of the Kissoon Group of Companies Hemraj Kissoon told Stabroek News that times were changing and so was the makeup of retail and commercial enterprise in central Georgetown.
Many of the businesses that first emerged in the 1950s have since been replaced by large multi-store complexes. The changing landscape of Georgetown's retail sector is telling of the huge Chinese influence in the sector.
And in addition, the large concrete malls that have been erected have focused almost entirely on accommodating as many physical stores as possible, with no consideration being given to parking and the overall congestion of the city.
When Stabroek News spoke with Kissoon, he had said that moving his business to the industrial site gave customers a way to circumvent what he described as an increasingly unappealing capital city. That being said, an outlet of Kissoon's Furniture store recently returned to the capital city, a stone's throw away from the large trading location on North Road.
A representative of Kissoon's explained that the various locations, while falling under the group of companies, were not all managed by the same head and this new location was recently acquired by a member of the family who came from abroad.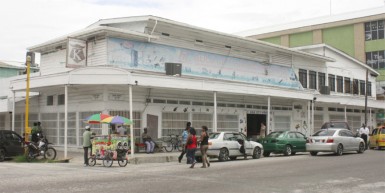 Stabroek News also spoke with various persons doing their daily shopping on the streets and came across a range of opinions on the changing landscape. Vidhya Tiwari said she welcomed the large malls as it was easier to go to one place and shop, while a companion disagreed, stating instead that "there isn't that much variety, the stores are really all the same…. What about people opening brand name stores instead of the same kinds of places?"
Richard Mohamed said that having industrial-type businesses and retail businesses all in Georgetown was odd. He said that, "all them Chinese stores, they sell everything. You go in and get chairs, belts, bowls, you can get everything one place." He added that this type of situation wasn't found anywhere in the world. "You see overseas, all of the home hardware stores are over this side and then malls over there selling clothes.
You don't see them together. Here, everything together, same place," he added.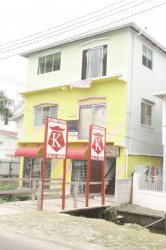 Asked if he thought this helped business or not, Mohamed said no. He joked that, "I shouldn't have to come to town to buy doors if I'm building my house and pick up a short pants all from the same store and the Chinese store that's what it is." It is not only Chinese who are scooping up pieces of prime real estate throughout the country's capital; many Indian nationals are also entering the retail and restaurant businesses. Mohamed stated, "We Guyanese are just watching them build and we buying."
When asked why he himself didn't change the dynamic, Mohamed said, "I'm waiting to go over [to America]. My wife already gone and she took my kids. My sister gone with she husband. I'm going too."
Around the Web