Three armed gunmen on Friday night robbed the recently opened Smile Mini Mart and Gas Station, located at Bachelor's Adventure, East Coast Demerara, escaping with nearly $20,000 in cash and the cell phone of an employee.
No one was physically hurt, but the two employees who were on duty at the time said that they were still traumatized.
The incident was captured on the service station's surveillance cameras and the tapes have since been handed over to the police.
"Like around 8.35 [pm] three young men, like in their early 20s… they came up and asked for change so my friend pointed them to me and was telling me they want change, but [she] came close to me and say these boys looking suspect, and just then was when one pull out a gun and put it to my back and another one put one to her head," Alicia Calder, an employee, told Stabroek News yesterday.
Employees said that the entire incident lasted less than five minutes.
She said that at the moment she stopped moving one of the gunmen took off the bag she had thrown over her shoulder. The bag contained the money from petrol sales for about a two-hour period.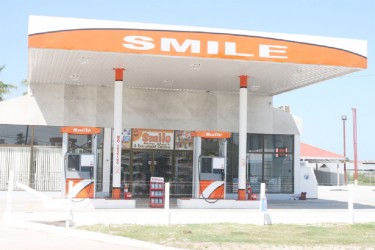 Calder recounted that while the man did not look in the bag he told her that he knew she had a cell phone and demanded it. She said she was too terrified to tell him that he already had it and it was in the bag he had taken. He began searching her person for the phone and when he didn't find it decided to flee.
"How they operated I honestly believed that they would shoot us, because they had on no mask and kept pointing the gun and saying don't say a word don't move… then when they were done they ran for that side [east] and I still think that they would shoot or something," she related.
The young woman went on to say that police at the Cove and John Station were notified and they responded promptly with back-up from the Vigilance Police Station.
She said that the police took prints as well as the videotape of the entire incident.
Around the Web