A Kuru Kururu man is the latest road fatality after he was struck down on Friday evening by a motor car.
Truck driver Chandrika Ramchand Persaud, 47, of Lot 45 Kuru Kururu, Soesdyke-Linden Highway, was believed to be heavily intoxicated when he walked into the path of a Toyota Spacio as he attempted to cross the road.
He reportedly sustained broken legs and arms and severe head injuries and was taken to the Diamond Diagnostic Centre where he was pronounced dead on arrival.
His body was later taken to the Lyken Funeral Parlour.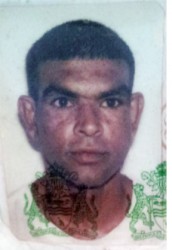 His sister Rajpattie Persaud said that he left his home around 5.30 pm on Friday afternoon.
She said she received a phone call around 6 pm informing her that her brother had been in an accident.
Persaud said when she arrived at the scene her brother's body was lying on the road and people were laughing because it is known that he drinks alcohol.
"People does be sober and does still get hit down, so me ain't know what they laughing about," Persaud lamented.
She also said that her brother had turned to alcohol after he recently lost one of his two sons due to a medical complication.
Sources say the female driver of the motor car is in police custody assisting with investigations.
Around the Web