The euphoria that once greeted the results of the elections of October 5, 1992 has evaporated, APNU said, and it called on the executive government of Guyana to "reset" its politics.
The PPP/C yesterday celebrated 21 years of maintaning the reins of Guyana's executive government, but APNU said the party has nothing to celebrate.
Speaking to reporters during a press engagement on Friday, APNU Leader David Granger said that the type of governance exhibited by the PPP/C has damaged Guyana's political democracy and stymied its economic development.
He said the "perpetual restlessness"continously exhibited by various workers' unions is a clear indication that Guyana's masses are not pleased with the current situation. He also slammed the disregard with which the Trades Union Congress is treated.
Additionally, APNU said that the PPP/C has "failed miserably to advance local democracy", while having "destroyed Neighbourhood Democratic Councils (NDCs)." Furthermore, Local Government Elections have not been held since 1994, and APNU said the executive arm of the government is to blame.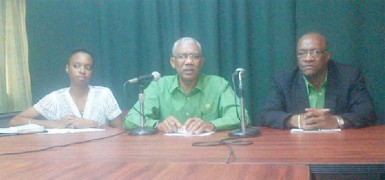 APNU also accused the PPP/C of reinforcing authoritarianism by intentionally incapacitating important institutions, attempting to subbordinate the National Assembly to the executive government, and undermining the independence of the public service.
To this day, important institutional organs such as the Office of the Ombudsman and the Public Appellate Tribunal, both intended to provide protection for the public from "executive lawlessness," remain dormant. And the APNU said this is because of the way the current executive government has sought to rule.
Instead of holding celebratory proceedings, Granger suggested that the party's members "use this time for a retreat in order to review its policies and resume serious engagements with the opposition so that the country can move forward."
Around the Web