A Black Bush Polder (BBP) man was discovered dead on Saturday night sometime after he was attacked by a gang of men who were consuming alcohol at a shop.
Stabroek News understands that the man, Jewanlall Deonarine, also called "Bingle', 50, of Lot 12, Lesbeholden, BBP, was beaten during a confrontation. He sustained a cavernous wound at the back of his head and blood was coming through his nose.
He was rushed to the Port Mourant hospital where he was pronounced dead on arrival. A source told thispublication that a rice farmer is currently in police custody assisting with investigations.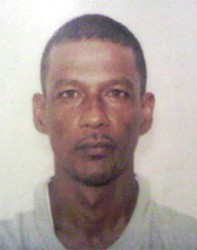 When this publication spoke to Totaram Dhanraj, the deceased's son-in- law, he recalled that, he along with Deonarine and another person went to purchase cigarettes. His father-in-law and the driver of their car PFF 8720, stayed behind whilst he went into the shop. While entering the shop, Dhanraj said one of the men started to rough him up after which he dealt him a punch to the face.  Fearful for his life, Dhanraj commanded Deonarine to enter the car, and told the driver to drive off. However, Deonarine stayed and confronted the men and he was badly beaten.
Dhanraj further explained that after they had driven off, he and the driver parked the car and hid in some bushes for safety in case the men had followed them. Asked why the persons at the shop might have attempted to hurt them, Dhanraj said they have no idea. SN learnt that after a few minutes of hiding, Dhanraj and the driver emerged and reported the matter to the Mibicuri Police Station.
Dhanraj said that after he and the driver fled the scene they did not see what occurred, noting that the place was also dark.  Stabroek News understands that after the report was made, police searched the area and found Deonarine's motionless, bloodied body on the corner of the road.
According to Deonarine's wife, they were celebrating her birthday and a farewell for her son-in-law, when the three men left to buy cigarettes.  She added that after she was informed of the tragedy, she left her home and went to the scene but was barred by lawmen from seeing her husband. She explained that although she went to the mortuary to inspect the man's body, undertakers told her she could not and would have to wait on the police.
The body of the deceased is currently at Ramoo's Funeral Parlour awaiting a post- mortem examination.
Around the Web