The family of Charran Hanoman, 9, called 'Rocky' of Number 64 Village, Corentyne, who died on Saturday say his death is a great loss.
Hanoman was crushed to death after falling from a tractor in the No. 64 backlands. According to reports, the New Market Primary School student was with his grandfather ploughing a rice field in preparation for the next crop when tragedy struck.
He was pronounced dead on arrival at the Skeldon Public Hospital. He sustained injuries to his hands, face, neck and head.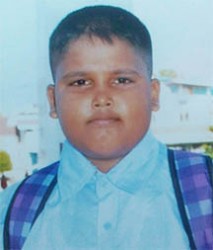 His grandfather Manichand Hanoman was late Saturday night released from police custody. He however, returned to the Springlands police station to give an additional statement yesterday morning.
Yesterday, when Stabroek News spoke to the father of the deceased, Yadoo Hanoman, he related what occurred.
Hanoman said that around 11:30 am his son went with his grandfather to the backlands. He added that about forty-five minutes into tilling the ground, Manichand felt as if he was ploughing out of line, leading him to stop the tractor. Upon making a sudden stop, his son lost balance and fell off the tractor, the father explained. The grandfather related that he tried to grab his grandson in an effort to save him. But whilst trying, his foot was accidentally released from the brakes, releasing the tractor, which rolled over his grandson.
This newspaper understands that, after the incident occurred, the shocked man picked up his grandson and held him on his thighs. After sometime the grandfather managed to call his son who was coming from the airport. The son sped to the scene where they summoned police and informed family members.
Stabroek News was told that the boy wanted to go with his grandfather but his grandmother had warned him not to go. He reportedly got upset and told her that he was going on the street. When the grandfather was ready to leave he did not see the boy so he left. The grandfather said when he arrived at the tractor he saw his grandson patiently waiting on him. According to family members, the child and his grandfather shared a strong bond making it hard for him to say no to the child.
The grandfather related to Stabroek News that the child was celebrating his birthday on Saturday and he was promised a bicycle. It was assumed that the child may have ventured into the backlands with his grandfather in an effort for his grandfather to finish off quickly so they could go and buy the present.
Hanoman is the only child and grandchild of the family. He leaves to mourn his parents, grandparents and other family members.
Around the Web